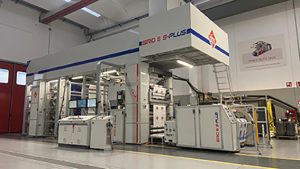 Bfm, present in the field of machinery for plastic materials since 1975, has been able to grow over the decades to become, today, a  leading Company in this  field, from  Take off units and automatic winders for extrusion blown film  lines, to Flexographic printing machines with Central drum up to 10 colors and Stack type up to 8 colors.
In the Stack type  flexographic printing field, the latest news is  "SIRIO S PLUS".
The machine, already presented last November at an Open House at the bfm headquarters, will be re-proposed on early May at "Print4ALL", with some news linked to energy saving, as well as the possibility of printing with water-based inks – Hall 9 – Stand H 26
Simultaneously with the Exhibition  there will be the opportunity to see the new Flexo Press "In operation" at the new bfm plant, built next to the pre-existing one and inaugurated in 2020 on the occasion of the 45th anniversary of the company.
Sirio S-Plus is a high performance 8-color stack type flexographic printer, which guarantee excellent results and high quality printing on different materials from plastic to paper , for various fields of application , flexible packaging  for food , clothing and pharmaceutical.
Particularly versatile, it allows to print various flexible plastic materials: HDPE, LDPE, PP, PET and also of bio origin, in line with bfm's commitment to global sustainability.
During the Exhibition  all the technological innovations of the machine will be illustrated, including high print quality, energy saving, efficiency and productivity thanks to easy and precise job changes, great flexibility of use, thanks to the ability to process polymeric materials of different types and finally, a compact layout and modern design.
Like all bfm machines, the Sirio S-PLUS model is also suitable for being connected to the network and allows to take advantage of the expected benefits and resources allocated by the National Industry 4.0 Plan, which has as its purpose the digital transformation of companies.
The machine will be  presented with an automatic un-winder with hydraulic levers  for  reels up to a maximum diameter of 1000 mm. As an option, it is possible to request the revolver application. The machine is equipped with a double head oscillating web guide system for perfect centering before entering the printing units, where each counter-printing  cylinder will be controlled by independent servomotors. The printing units are complete with plate  and anilox sleeves, both of which can be quickly replaced directly in the machine thanks to the cantilever system. The Sirio S-Plus is equipped with Easygear and automatic print presetting, thanks to these features job change can be carried in total safety .