The world is changing fast, and new scenarios open up new opportunities and demand new responses.
SYSTEC, the Swiss company active in the development of accessory machines for pre- and post-print in flexo printing (plate mounting machines, laser anilox cleaners, sleeves-storages), has always been attentive to the new opportunities that the converting sector can offer.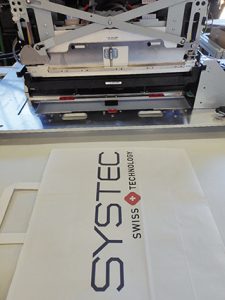 With the new models of distribution and sales to the retail introduced in recent months, new critical issues have arisen related to the management of minimum runs, production batches, and the restocking of packaging in general.
The problem of managing ever shorter print runs is making the management of orders more and more complicated through flexo printing, which inevitably has fixed costs linked to the job preparation phase (production of the plates, mounting, machine start-up, register, logistics etc.).
Although flexographic printing has always been super-competitive compared to other traditional printing technologies, the new retail scenarios are asking for new solutions for packaging customization.
Digital printing fully responds to these new needs, thanks to the "on-demand" characteristic of the work cycle.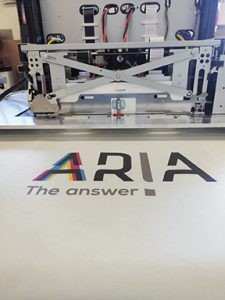 By intercepting these new dynamics, SYSTEC has embarked on a new path towards product diversification with the development of a new digital printing machine for the personalization of packaging and paper shopping bags.
After more than a year of development, which began in February 2020, SYSTEC is preparing to launch "ARIA", a new concept of modular digital printing machine, developed in collaboration with Memjet Technologies, San Diego, USA, leader in inkjet technologies.
SYSTEC has in fact integrated Memjet's DuraFlex technology into the new ARIA, capable of truly incredible printing performance: "single-pass" printing at a maximum speed of 45 m / min with resolution up to 1600 x 1600 dpi.
The DuraFlex printing head covers a width of 324 mm (if with a single print head) and operates in 4-color CMYK with water-based inks, suitable for indirect contact with food, with a very low cost per run.
Digital printing makes it possible to overcome the concept of "minimum run", making any type of work or customization flexible and just-in-time.
The flexibility of digital printing also allows for innovative and effective marketing solutions, with the ability to print variable subjects, responding to extreme customization needs, such as instant-marketing campaigns.
The ARIA project was created to be modular: the first version of ARIA is developed for printing on paper shopping bags, of any size and format, which in this way can be customized in any edition, simply on-demand.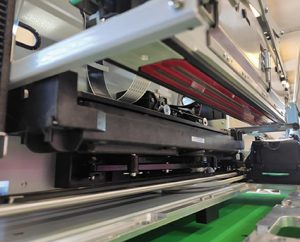 "The name "ARIA" really wants to indicate the great freedom to print what you want, when you want, how you want.
ARIA means freedom, flexibility, instantaneity, imagination. ARIA is now born in a first version for the personalization of paper shopping bags, but new versions are going to come dedicated to cardboard, but also to pre-assembled boxes.
The machine will be equipped with a series of accessories that will make it perfectly modular for the customer: automatic loading unit, on-demand digital priming unit, automatic unloading packaging line. The limit will really be only the imagination", says Massimo Caliari of SYSTEC.
From the point of view of the inks, the use of very fast drying water-based pigments allows extending the use of ARIA to the whole food sector, expanding more and more the possibilities of outlet for ARIA, which can range from food packaging, bags, fast food.
"One of the typical preconceptions that we had to face was related to the cost of managing digital, mainly the cost of inks. We were truly amazed at how the new pigments, highly performing and lightfast, water durable, scratch-resistant, have a very low operating cost, a few cents per single copy. This, based on the ROI simulations we developed with Memjet, makes ARIA and its digital printing cheaper than flexo up to a break-even of thousands of copies, expanding the possibilities of use up to medium runs", adds Caliari.
The development of the machine went through a demanding phase of technological integration, with very close contacts between the technical teams of SYSTEC and MEMJET.
"The integration was possible thanks to the great relationship born with MEMJET, their support and collaboration. This was so close that we became "Prime OEM partner", that is Memjet's official partners and integrators, for the development of new projects involving the integration of MEMJET technology. This entails new development opportunities for our company, which looks to the future with confidence", concluded Massimo Caliari.