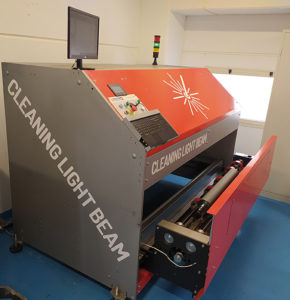 SYSTEC, the Swiss company active for over 20 years in the construction of accessory machines for flexo printing, launched its new laser cleaning system, LASER5.
It is an innovative, safe and sustainable technology.
The factors that contributed to the success of this project are the choice of a laser studied in detail, the intelligent electronics able to manage the system in a flexible manner and the multiple tests carried out by field technicians that lasted 3 years.
The main advantage of this cleaning method is the total lack of any chemical substance or solvent for the reaction with the ink: the laser works on the surface of the anilox, it let the dirt evaporate which is conveyed into the suction system of the machine. A truly green technology without complications such as disposal and storage of cleaning materials.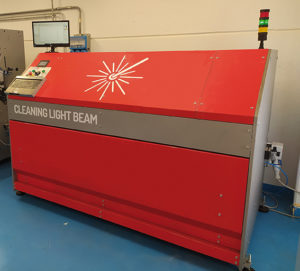 The SYSTEC system is managed by custom microprocessor electronics, developed entirely within the company, which automatically manages the synchronization of the roller rotation with the advancement of the laser source according to the developments and ruling.
The work cycle is completely automatic: the aniloxes are placed in a sliding drawer with pneumatic opening and closing. When the cycle is completed, the machine unloads the drawer which opens and the clean anilox can be removed.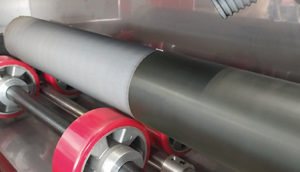 "Despite the doubts about the safety of laser technology on ceramics, we have calibrated the laser power in order to maximize cleaning performance and avoid any type of surface deterioration. Instrumental and tuning checks were carried out with the collaboration of the best technicians of anilox manufacturers. Finally, by customizing the electronics, hardware and software, we were able to significantly reduce the production cost of the machine which is now being offered to the market at truly accessible conditions. This is an innovative technology within reach of even small and medium-sized companies, with a return on investment possible even in the presence of one printing machine ", says Massimo Caliari, SYSTEC sales manager.