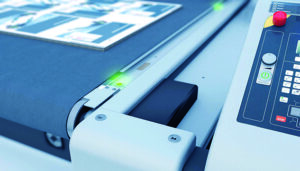 Zünd is moving even closer to its customers in Spain. As of the beginning of 2023, Zünd acquired its long-standing sales partner Sign-Tronic S.A, which is based in Barcelona. 
Sign-Tronic S.A. was founded in 1990 and since then has been an official partner for sales and support of Zünd. As of 2023, the company operates under the name of Zund Ibérica and serves numerous customers in Spain, Portugal and Andorra.
Jordi Lorente is the new CEO of Zund Ibérica. For the time being, he will be actively supported by the previous co-owner and Managing Director Flemming Jensen. Rosa Miralles, also a co-owner, will continue to work in an executive capacity at Zund Ibérica.
Zund Ibérica currently employs 15 people. With more than 1,000 cutters installed, is one of the most experienced distributors of both digital cutting systems and software and workflow solutions on the Iberian market.
In its own showroom customers and interested parties can experience the many possibilities of Zünd's digital cutting technology in person. Its staff consists of proven experts in consulting, training, installation, and service.
"We are thrilled to welcome Zund Ibérica to our global group of companies. Working closely with our new subsidiary will allow us to further strengthen our business in Spain and expand our customer base. I am convinced we will continue to be able to provide our Spanish customers with the best possible service in the long term. The resources at our disposal and our new subsidiary's extensive experience will allow us to grow further and continue optimizing our customer support", says Oliver Zünd, CEO of Zünd Systemtechnik AG.