Consistent, industrial manufacturing relies on digital, automated processes. For Fachpack 2022 in Nuremberg, Germany, Zünd will be presenting packaging manufacturers with a portfolio of solutions for the effective automation of their production processes.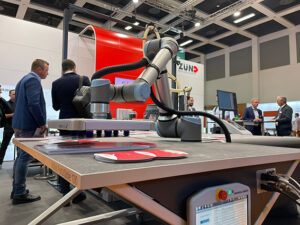 There are many different ways to optimize production and improve efficiency and profitability. And this is where Zünd comes in, with a wide range of automation solutions – from the automated and standardized preparation of print and cut files, to providing packaging manufacturers with production monitoring and analysis, streamlining the picking & sorting of cut parts, and simplifying logistics.
At Booth 438 in Hall 7A, Zünd will be demonstrating how intelligent, automated production can provide even SMEs with substantial savings and eliminate errors at the source. For example, industry specialists will be able to see how finished parts are picked completely automatically and placed in predefined locations with robots controlled by the Pick&Place interface option. The material-handling solution is a Robot PortaTable 130 and consists of a roller table with a collaborative robot arm mounted on it. The Robot PortaTable 130 does not require fencing and can be quickly moved to another Zünd cutter. Visitors to Fachpack 2022 will be able to see the Robot PortaTable 130 in action with a Zünd G3 M-2500 cutter. A Board Handling System BHS provides automated board loading/off-loading. Larger orders can be left to run unattended because of this automated material-handling system. Just-in-time short runs can also be processed efficiently using this setup.
Parts removal and job tracking are made more efficient with the Visualizing option, another component of the Zünd Cut Center user interface and workflow software. In addition to aiding users visually when picking & sorting parts, it also allows finished items to be labeled if required, while printed QR codes ensure simple, efficient logistics.
Visitors looking for solutions to further optimize production workflows will find the answer in the web-based monitoring and analysis software, Zünd Connect. It captures key performance and availability metrics for integrated Zünd cutters and calculates the Overall Equipment Effectiveness (OEE) from this information. Zünd Connect identifies efficiency losses and delivers key indicators to help users optimize their cutting operations.