By Dieter Finna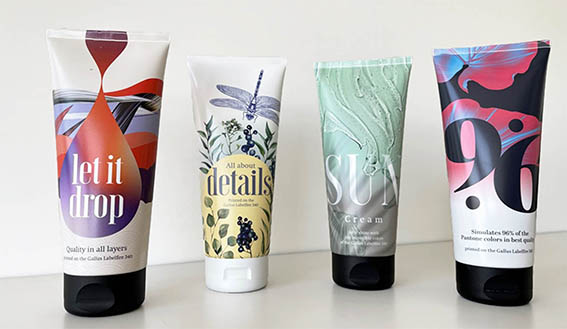 Declining run lengths, shorter cycle times, lower margins and rising costs in conventional tube laminate printing point in the direction of digital printing. This technology has now overcome the technical hurdles of tube laminates. With newly developed UV inkjet inks and a digital printing system that offers the shortest web paths, including the option of inline coating, it's also ideal for achieving reasonable margins with short runs.
Digital printing has become a hot topic in tube printing. This has been made possible by new developments from Heidelberger Druckmaschinen AG and Gallus Ferd. Rüesch AG with their coordinated solutions for this application. Tubes, which are bent and crushed during squeezing, require a flexible ink film. In addition to good adhesion to the laminate, above all, it must not crack. For this purpose, Heidelberg developed the UVF01 inkjet ink, which has proven itself not only in tube laminates but also primarily in the printing of folding carton. The new ink system required a different drying system, which Gallus integrated into the Labelfire "Tube-Edition" in the form of UV-LED lamps. The advantage of using UV-LED technology instead of the mercury vapour lamps that were previously used, is that the energy penetrates the ink layers better thanks to the high intensity of the UV-A beams and leads to more uniform curing. The high intensity of the UV LEDs eliminates the need for boosters to intensify drying. This allows the temperature-sensitive tube laminate to be processed without being affected by heat. Inert gas is also used to cure the ink film quickly and completely. The resulting increase in curing performance and the reactivity of the photoinitiators ensures complete curing of the ink film. In addition, the ink system adheres very well to the substrate without the need for priming.
How is digital printing developing for tube laminates?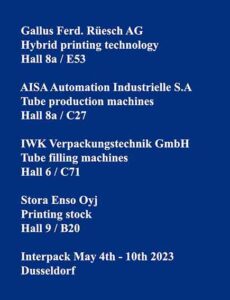 At Interpack from the 4th to the 10th of May 2023 in Düsseldorf, Gallus will be demonstrating the prospects this opens up for tube printing together with well-known partners. These include AISA Automation Industrielle S.A. for tube production machines and IWK Verpackungstechnik GmbH for tube filling machines, as well as Stora Enso Oyj for printing stock.
Patrizio Vaninetti, who is responsible for sales in Central Europe at Gallus, has summarised some of the key points of future developments in tube printing for those interested in printing who will not be attending Interpack.
"Per Gallus, lo sviluppo tecnico nella stampa di tubetti è associato a un ulteriore calo delle tirature, che sta cambiando la tecnologia di stampa utilizzata. Ora ha senso produrre le tirature più brevi stampando in digitale", afferma, descrivendo lo sviluppo della stampa di tubetti. "E ha anche senso produrle su sistemi di stampa digitale ibrida", afferma Thomas Schweizer, Head of Business and Product management di Gallus: "con una macchina da stampa digitale autonoma, sarebbe necessaria una seconda fase di produzione su un'unità di verniciatura, che aumenta la complessità e riduce la convenienza in termini di costi. Oggi il metodo di produzione esistente continuerà ad essere usato per le tirature più lunghe. Le macchine ibride convenzionali sono talmente automatizzate da essere già molto efficienti"
"For Gallus, the technical development in tube printing is associated with a further decline in print runs, which is changing the printing technology used. It makes perfect sense to produce the shorter runs by printing digitally now," he says, describing the development in tube printing. "And it also makes sense to produce them on hybrid digital printing systems," states Thomas Schweizer, Head of Business and Product Management at Gallus, adding: "With a stand-alone digital press, a second production step would be needed on a coating unit, which increases complexity and reduces cost-effectiveness. From today's perspective, the existing production method will remain in place for current longer runs. The conventional hybrid machines are automated to such an extent that they are already very efficient"
The web path is one of the decisive factors for economic efficiency
The importance of the material costs and thus the web path in a machine is revealed by considering profitability, especially with decreasing order sizes. The material costs make up a significant part of the total cost and thus the profitability of a job. To do justice to this aspect, the web path in the Labelfire "Tube-Edition" has been kept as short as possible. Instead of a double rewinder, a single rewinder is used and the printing units have an ultra-short web path of only 1.1 metres from printing nip to printing nip. Between unwinding and rewinding, the web path of the "Tube-Edition" is only approx. 25 m in total. With comparable machines in tube laminate printing, it is about 80 m. The short web path reduces waste during makeready and production and thus lays the foundation for the economical production of small orders.

Specialist in narrow web applications
With the Labelfire "Tube Edition", Gallus is expanding another area of application in special packaging, after the company has already been present with industrial solutions in the folding carton market for tobacco applications for several years. The Labelfire «Tube-Edition», makes a digital printing system for tube available, which represents an investment for further decreasing order sizes in the market. For a transitional period, the system would offer the possibility of producing tube laminate and label jobs on one machine, to make full use of its capacity right from the start.