ULMEX is setting new standards with the Evolux laser cleaning machines. The machines impress with their cleaning results, even with the most difficult residues of lacquers, adhesives, silicones and resins, a fully automatic cleaning process as well as maximum individual cleaning programs by using a pulse laser as the heart of the machine. In addition, cleaning by Evolux machines does not require the use of chemical detergents or solvents. This makes the machines particularly interesting for the food packaging sector and for companies that focus on environmentally conscious printing and cleaning.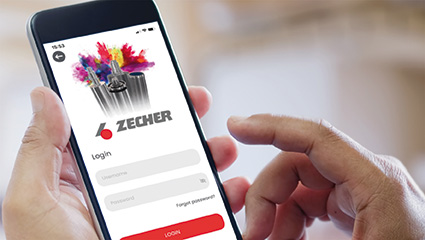 With the new Zecher App, Zecher is putting an exclamation mark on the digital transformation of the printing industry and enables its customers to manage their Zecher products compactly using mobile devices.
By using the guest access, the app functions as an information portal and provides information about the Zecher product world, the company, the most frequent FAQs and enables mobile use of the anilox roller calculator. The login area, on the other hand, goes far beyond a purely informative platform. After successful registration, users benefit from a detailed listing of their own Zecher products including processing status. Requests for new products or refurbishments can be sent from within the product overview, ongoing and completed inquiries and orders including delivery times can be tracked under "My Zecher", claims can be addressed via a barcode scanner, and users have the option to be informed about changes in processing status via push notifications.
Zecher's SteppedHex engraving has established itself as an alternative to conventional hexagonal engraving and is becoming increasingly popular. The many complementary advantages over conventional engraving lead to optimized printing results and make interesting the innovation.