Recently launched on the market, Evolux is an innovative concept for laser cleaning of aniloxes, with this Ulmex make its debut as a technology manufacturer. This is a strategic choice that will see the Italian-German company ever closer to printing and packaging market, in support of customers. We talk about it in this interview with Angelo Maggi, director at Ulmex Italia.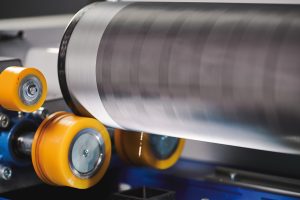 In recent months Ulmex arose great interest for the presentation of an innovative system for anilox cleaning, based on laser technology. In this field the company headed by Angelo Maggi has acquired considerable experience over the years. The use of lasers is a hotly debated topic among printers, converters, but also among supporters of the different cleaning methods for anilox. These cylinders represent an essential element in the flexo printing process and therefore require adequate management and maintenance.
As Angelo Maggi reminds us, in fact, "today a company that has a flexo printing machine in production has to manage 7-10 anilox and regeneration cost is around € 1,500-2,500 for each as regards the medium web. Customers who use our laser technology have informed us that they have managed to lengthen the regeneration cycles of anilox by up to 50%. Therefore, on balance, it is quite clear that even from an economic point of view it is an element that has a significant impact, even indirectly, on management costs of anilox cleaning". So the purchase of a laser machine is not an expense, but an investment that pays for itself in a short time.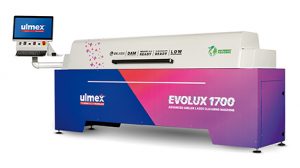 The technological heart of Evolux is the exclusive pulsating fiber laser source that also allows you to calibrate the frequency and the characteristic of the pulse itself, creating customized cleaning programs. This allows Evolux to remove not only inks, but also more difficult residues such as coatings, adhesives and silicones, solvent based, water or UV. Once the start-up has been made through the integrated 21" touch screen monitor, the cleaning process takes place quickly, quietly and fully automated, without any need for operator control and always with the guarantee of maximum effectiveness. In fact, among the many benefits of Evolux, there is also the self-focus laser beam which cleans every single cell with equal intensity and energy, ensuring homogeneous results along the entire surface of the roller.
Face to face with Angelo Maggi, General Manager at Ulmex Italia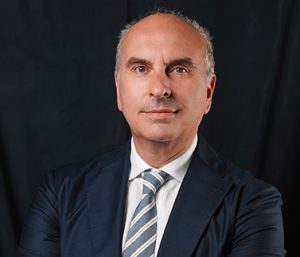 Let's take stock of the last year and a half, in which the world of printing and converting has also been the protagonist of important changes. How did you experience them and how did you organize yourselves?
"For us it was a very positive year, both from a commercial point of view, but above all from a technological point of view. The decision to develop a proprietary technology for laser cleaning of anilox arose in fact in the first months of the lockdown, when we carried out a corporate restructuring, dedicating time and resources to Research & Development activities from which Evolux was born".
Ulmex, from supplier for the printing industry to direct producer of technology, why this choice?
"In our DNA there has always been a strong drive for design and development of new technologies. Everything that revolves around the anilox is considered by us a strategic asset and for this reason we were among the first in Italy to provide a laser cleaning service. Now we go a step further by offering the market our proposal with technologically advanced machines for cleaning anilox. In particular, we turn to companies that in recent years have been able to test the effectiveness of this procedure by relying on external services. Today they can choose to buy one of these latest generation systems and become autonomous".
Anilox cleaning is a topic of great interest on the market and at the center of discussions about the best technology. What is your point of view and why do you think Evolux is an innovative solution?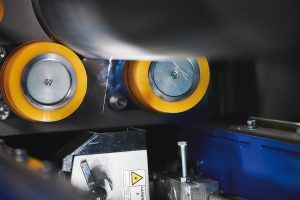 "The strengths are manifold, as well as savings that can be achieved by introducing a system for cleaning anilox into the company. We also have extremely positive feedback from our customers, with a history of a few years now. Furthermore, worldwide there is a trend that pushes towards this technology compared to traditional methodologies. Two Evolux models are installed in our showroom, one for anilox up to 1700 mm and the second for anilox up to 2100 mm, available to customers who want to test their performance directly. In the last period we have organized several demonstrations, both in presence and with remote connection with customers from all over the world, which in several cases have allowed us to place orders by acquiring different orders. The customer, even the most reluctant to approach the laser for this type of operation, when he sees with his own eyes the simplicity of the process and the results with Evolux machine, changes his mind. I think it is, very often, a psychological block not supported by other factors. This is a technology that helps customers in the daily management of their processes with an important economic return. Evolux reflects the dictates of Industry 4.0, with all the resulting economic/tax advantages. In addition, the machine provides detailed reports with data that allow the customer to know in detail and analytically the state of the art of their anilox fleet. Advantages that make the investment in this technology particularly interesting even for a small company that has only one flexographic printing machine".
Will Evolux also be integrated as a proposal in your home service with equipped vans?
"Absolutely yes, this is a choice made years ago and with our vans we travel all over Italy offering a service that is highly appreciated by customers, who consider Ulmex as a competent partner always at their side. Two of our vans are equipped with the new Evolux Smart, and I do not hide the fact that several customers, once they have tried the service and verified the quality of this process, decide to equip themselves with this system, making themselves autonomous".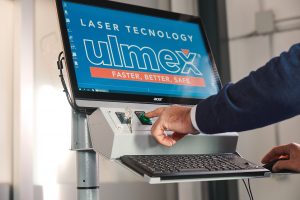 Do you have other projects in the drawer that will see you launch new solutions as manufacturers?
"Of course, we are already working to implement the Evolux project with the addition of tools to be integrated into the machine aimed at complete automation. We want to get to the point where the anilox cleaning system is managed in an increasingly automatic and simple way by the operators. From a commercial point of view we have embarked on a path of internationalization, especially by addressing the markets of northern Europe where we aim to grow further over the next few years".