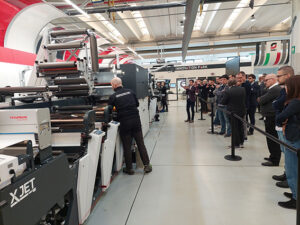 On 22nd and 23rd February 2023 OMET inaugurated the events season at the new Innovation Park, permanent showroom in Molteno (LC), with a two-days open house dedicated to hybrid flexo+digital printing. A digital heart perfectly integrated into a conventional machine body: the protagonist of the event was the OMET XJET, showed the advantages that have attracted the attention and demands of the largest players in the market.
L'Innovation Park OMET hosted the first Open House of a long series scheduled in 2023 at OMET Innovation Park. This is the year of the 60th anniversary of the foundation of Omet: When Digital meets Flexo was a two-days event dedicated to flexo+digital printing, current trend in the label printing market for the big potential and advantages that this solution offers compared to traditional printing machines.
The two-days event hosted more than 80 partecipants and opened with a welcome from Marco Calcagni, OMET Sales & Marketing Director, and technical presentations from Marco Panzeri, OMET Digital-Hybrid Product Manager, Francisco Eichhorn, DURST Business Development Manager Group, Roberto Maiocchi, Regional Sales & Marketing Manager of BST Italia and, who showed all the advantages, possibilities and solutions related to hybrid printing.
All visitors attended the live print demonstration of the OMET XJET with a quick job change between different subjects of beer labels, with the possibility of deepening knowledge on the potential of hybrid printing thanks to the presence of OMET and Durst technical staff.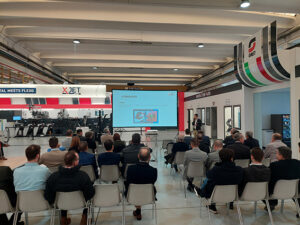 The Tau RSCi is a high-performance inkjet printing unit capable of achieving the best digital print quality, covering up to 95% of the Pantone color space. This model can be configured in 330 mm, 420 mm or 510 mm width, up to 8 colors CMYK+W+OVG, with a standard speed of 80 m/min at a native resolution of 1200×1200 dpi, with the option to increase it to 100 m/min.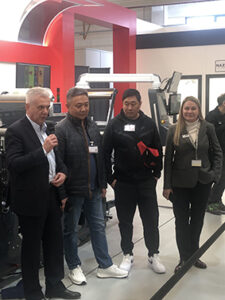 Thanks to the perfect integration into the renowned X6 platform, web tension and print register is handled easily through OMET automation that always ensures the best qualitative performance on all materials, working as a single machine, thus minimizing set up time and waste.
OMET XJET powered by Durst is the only machine featuring a full in-line multi-process concept, which is able to combine all the advantages of the two printing technologies in a single hybrid platform to enable the production of high value-added labels in a single process. Moreover, thanks to the digital module, jobs that would not normally be cost-effective when printed on a high-productivity machine become convenient with the assurance of the highest quality. With OMET XJET you are able to expand the range of opportunities, adapting the production to changing market trends such as customization, just-in-time deliveries, and end-product enhancement.