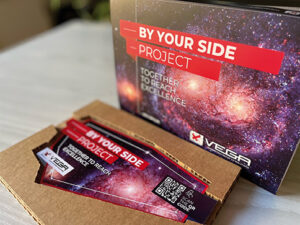 75: these are the years of activity that Vega celebrates this year on its founding anniversary. A milestone that is as important as full of pride for the journey so far and for the trust that customers have shown throughout this time. And it is with the customers that Vega has decided to celebrate in an innovative and forward-looking way through a new project, called "By Your Side," which aims to optimize Vega machines by listening to the needs of its partners even more carefully.
"By Your Side" is a virtual space that can be quickly accessed by framing a QR Code, which can be applied with a sticker on the pulpit of the machine. Here, two surveys are available: one designed for the maintenance and purchasing department, which allows Vega to gather vital feedback to make service and the work on its products easier and more beneficial; and another, dedicated to the on-board machine operators, who daily work on the machines.
"By Your Side" wants to grow a direct relationship between Vega's team and its customers: this space will be implemented over time to make after-sales service even more present and responsive and to make it possible for operators to contact Vega's service department directly.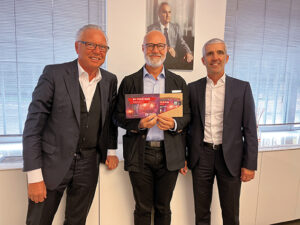 "All the questions in the By Your Side survey are designed to reason and to improve us. Direct feedback from those who use Vega machinery is valuable and essential to keep the focus on the needs of our customers and the safety of operators, listening concretely to their needs even after the sale," says Vega President Jacopo Nava. "We want to make the production process even faster and more efficient, with a focus on quality and safety of the operators' work, an extremely important issue for Vega. We strongly believe in protecting well-being in the workplace, and we also want our machines to contribute to achieving more comfortable and fulfilling conditions for end users."
The "By Your Side" project has begun with some of Vega's customers scattered around the world and will later be integrated to all Vega customers who want to be part of it.
The first Italian reality that received the gift box containing the QR Code of "By Your Side" is Lic Packaging SPA, a historic company from Verolanuova (BS) and a leader in the sector, which studies, researches, designs and industrializes packaging solutions for direct food contact, packaging, transportation and display solutions for point-of-sale display.
The collaboration between Vega and Lic Packaging has lasted for several years and was recently renewed with the choice of a Vega Altair ADF folder-gluer, top of the range among Vega machines, complete with double feeder that allows the production of Quick Easy Top boxes, invented and patented by Lic Packaging itself in 1997. Jacopo Nava and Vega Sales Director Remo Paiola visited Lic Packaging to personally thank President Piero Bertoldo.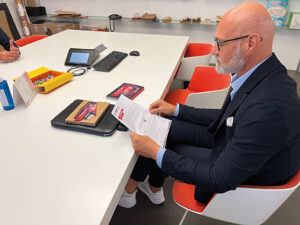 "Over the years, especially in this last period, we have realized how important it is to be next to our customers. We called this project "By your side" because it emphasizes the desire to work right alongside the customer, creating a concrete and stimulating collaboration, always giving our best," says Remo Paiola, during the meeting with Piero Bertoldo.
"Therefore, the concept of proximity also encompasses the entire design and implementation phase of the solutions and continues over time with assistance provided in the shortest possible time. We are happy and proud to give life to this project starting with another historical Italian company like Lic Packaging," adds President Jacopo Nava.