The international Open House event  held from 5th to 7th October in Caravaggio had a truly unique flavour. After the last few years marked by strict lock-downs and peremptory international travel restrictions, at last a live meeting with industry operators. And what an audience! 160 customers from Portugal, Spain, France, Benelux, UK, Germany, Poland, Slovenia, Turkey, Mexico, Canada and even Australia!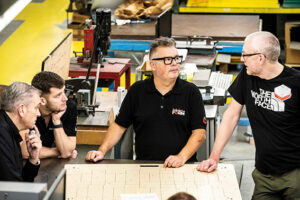 "This in-presence meeting was the perfect occasion for the worldwide launch of RotaPRO, our new machining centre for the production of rotary dies, which will go into production in Q4 2023," comments Mauro Tomelleri, Sales and Marketing Director of Proform (a Serviform Group company dedicated to the production of CNC machines for die-cutters). "In addition," he continues, "we presented the new Industry 4.0 ready data collection software FabriCode and the die production management software Projecto."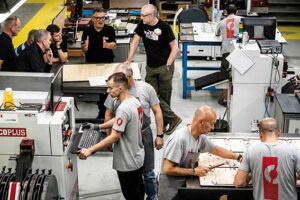 The event took place at Foppa Fustelle. Open house participants had the chance to see the full range of Serviform machines in production conditions: EcoGiant and EcoPlus, the two new generation folding machines, LineA, our top of the range folding machine, Integra Crease, the production unit for creasing rules, laser creasing rules and straight cutting rules, Integra Strip, the centralised system to process steel rules for stripping dies, Milla Plus, the CNC machining centre specifically conceived for milling jobs, SkyMilla 2513, the brand new automatic milling centre for steel and pertinax plates, RubbA 1000, the rubber cutting machine with oscillating knife, Rubbot 2100, the automatic rubbering system for dies, Tacto 2.0, the machine for Braille embossing tools, and Sysform, the modular software designed by Serviform, based on AutoCAD / AutoCAD OEM environment, to design all kinds of boxes and tools for all die-cutting systems.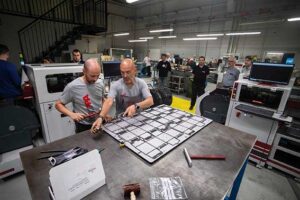 Foppa Fustelle – the historic diemaker belonging to the Serviform Group and the first in Italy to be Bobst certified – has always been a tester of Serviform automation solutions for die-cutters. Serviform thus offered the international operators a unique experience: observing machines and operators during their daily work in a die-cut production and interacting with them. Much more than an open house event in a Demo room!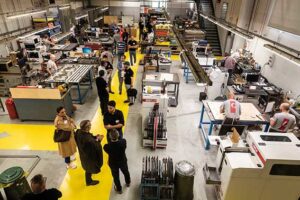 The Serviform team present at the event enjoyed the support of numerous international agents who had gathered at the annual meeting (World Agent Meeting) the day before the Open House. There were plenty of questions from the audience during the guided tour and demos of the machines at work.
Not only business at the Serviform international Open House: the tasting of various Italian specialities completed this truly unique experience!