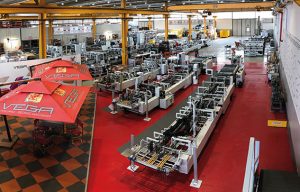 Vega will celebrate its 75 years on the market by presenting one of the innovations it has in store for this year at CCE in Munich.
In the wide range of machines and models offered, Altair is one of the most popular folder-gluer models, created for corrugated cardboard but also capable of processing folding boxes, it is available in 4 sizes: 170, 200, 240, 290 cm.
This machine is constantly evolving and the first details of the Altair GT will be unveiled at CCE in Munich, which includes new technologies constantly developed over time and enhanced also thanks to the acquisition of Revicart's know-how.
Here are some previews of the technological innovations for Altair GT: the sections are motorized in a completely independent way to optimize the performance and energy consumption of the individual motors and to fine-tune machine stopping technologies in single sections on the modules in order to improve efficiency. the gluing process in the event of a machine stop.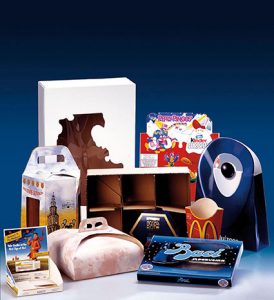 Altair GT is preparing to have a more technological appeal thanks to a more dynamic and intuitive digital HMI interface.
In addition, access to the gluing area has been improved, so as to make easier the operator's intervention on the glue unit; the axis translation chains have been brought to the internal transmission branch, disappearing from sight and possible contact with cardboard dust, because safety and freedom of access always remain a fundamental point for all Vega machines.