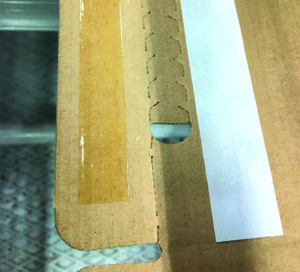 The irruption of the COVID-19 across the world has altered purchasing habits and amplified an already growing trend: e-commerce. In line with the mobility restrictions that our societies are enduring, online commerce remains as a solid ally for companies nowadays.
As a leading supplier to the corrugated and folding carton industries for hot and cold gluing and quality assurance systems, Valco Melton is offering SealTak® a multiple application solution package for your e-commerce products from a single supplier.
This includes the application of pressure sensitive hot melt adhesive and release liner for easier peel and seal (replaces Transfer Tape), the application of Tear Tape, and optional cold glue equipment for In-Line Cross Gluing – a complete solution from one single brand.
By eliminating the use of double-sided tapes, Sealtak® technology brings the following benefits: Improved easy peel and seal feature, Stronger bond, Reduced downtime, High speed and efficiency, Cost savings.