Last october, during K fair, Uteco Converting presented to customers, journalists and operators in the sector this new flexo machine that continues the long success story of Uteco's onyx range and innovates it with cutting-edge technologies to guarantee excellent print quality, maximum ease of use for the operator and extremely fast job changes. Onyx go is the fastest in its market segment and is available in two configurations: 8 or 10 colors, both with a maximum print width of 1320 mm and a maximum print repeat of 720 mm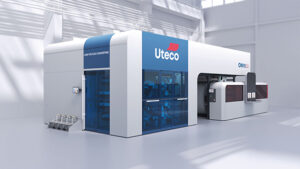 A change of pace and strategy, the one that saw Uteco as the protagonist, which from the beginning of 2022 launched its new image and brand identity with the desire to offer the market increasingly innovative and performing solutions, with a strong know-how of more than 35 years, which from flexo printing and converting, has then expanded with the inclusion of gravure and digital, completing the printing solutions for maximum flexibility. Without a doubt in this development strategy towards the future, flexo printing represents a focus of primary importance, and it is no coincidence that the first new machine with the new brand is the new Onyx Go model for production of flexible packaging, flexo printed in short runs.
About 200 people attended the presentation of Onyx Go, equipped with numerous patented innovations, the result of a project that lasted over 18 months, born from the needs of customers, and designed to solve their problems and daily needs. During the event, Uteco's Executive Chairman Aldo Peretti, CEO Mario Tomasi, Chief of Innovation Officer Alessandro Bicego and Patrizia Pinto, Chief Customer Service Officer, spoke.
The Onyx Go Project was truly a very exciting challenge: the result of over 200 interviews with customers to better understand their needs; over 80 Uteco employees who worked for in 10 different departments; over 3500 hours of design and engineering; born after 35 years of experience in the flexo industry.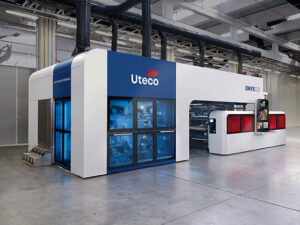 Onyx Go is the most compact flexo machine in the small machine category; waste is also very small, thus saving up to 200 km of material per year; the machine is equipped with the most innovative energy saving package thanks to the Active Dry® system, which can save 50% of energy in one year; its productivity is unmatched thanks to the fastest changeover time on the market for its class; guarantees maximum safety and ergonomics for operators thanks to the completely removable drying unit between colors with replaceable nozzles and the innovative cockpit with HMI, adjustable in height.
The new Onyx Go design defines a strong and recognizable identity, a sense of order and compactness, while the new shape conveys efficiency and care in terms of use and interaction with the operator.
Productivity, sustainability, ease of use
The machine prints at a maximum speed of 400 m/min and is equipped with cutting-edge technologies to ensure fast and efficient job changes: the adjustment of printing pressures is automatic and takes place in less than 3 minutes, while the register is almost instantaneous. This new technology, Active Start, reduces material waste at every start to less than 20m and consequently increases production times.
Onyx Go is the most compact in its market segment with a total footprint of less than 50 sm and reduced operating spaces. The new positioning of the washing and inking system, close to the central drum, frees up the space in the rear area of the machine.
Onyx Go is sustainable because it is equipped with new cutting-edge technologies for energy saving. Active Dry® enhances drying between colors and in the tunnel, optimizing the airflow and drying temperature according to printing characteristics. This technology guarantees up to 50% energy savings compared to traditional drying systems.
Active Ink is the most innovative inking system on the market, with intelligent ink dosing for each color unit: ink delivery flow and pressures are optimized based on printing characteristics. This technology guarantees up to 60% energy savings compared to traditional inking systems.
Dynamic Doctoring® guarantees the optimization of ink flow and constant pressure inside the doctor blade chamber: ink volumes are reduced to a minimum, guaranteeing savings in terms of consumption. Sprint Wash is used for very fast washing cycles: less than 4 minutes for a complete cycle and up to 40% savings on solvent consumption.
Onyx Go is very safe and easy to use, thanks to the innovations that guarantee maximum ergonomics for the operators. The drying units between colors are completely removable, ensuring easy access to the central drum; the nozzles can be replaced to improve the drying power.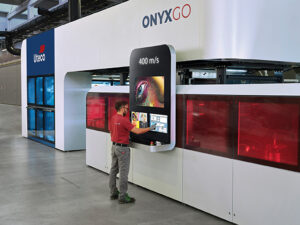 Dynamic Cockpit is the symbol of personalized ergonomics: a very ergonomic cockpit thanks to the floating HMI, which adapts according to the height and needs of the operator; Dynamic Lift, a mobile step integrated into the printing unit, allows you to reach the highest color units in a simple and safe way. Furthermore, all the applications positioned on the machine deck are fully accessible via the gangway and the new fairing is designed with specific materials to contain noise: the resulting noise level is less than 80 dB.
Face to face with Aldo Peretti EXECUTIVE CHAIRMAN Uteco
What feedback have you received from the market after your change of look which also hides important technological contents?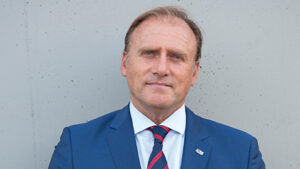 "We started 2022 by presenting the new corporate brand identity which saw the renewal of the corporate logo and colors, together with internal and external communication. This was followed by participation in many trade shows both local and global, ending up with our recent "Amazing Reveal" during K trade show in Germany. The feedback received from the market has been enthusiastic, as the presentation of our new technologies has been welcomed with great interest. About 200 people attended the presentation of the Onyx Go, equipped, as mentioned above, with many patented innovations, the result of a project that lasted over 18 months. All this is just the beginning of what will be the next series of future updates that include new machines and applications both physical and digital, result of innovation and digitization".
Can you anticipate some news that we will see in 2023?
"Our tendency is to optimize the machines, especially today because we increasingly must take into account more and more energy consumption which accounts for 50% of printing costs. So we work on the machines in this direction to optimize production.
We also need to ensure that the converter has less and less waste, so we aim for ever greater and more sophisticated controls on our machines. Then there are connectivity and industry 4.0 process with integration with other production sectors within companies.
In this way we contribute to the evolution of the customers' technological capabilities. Last point, our social responsibility, and this also means working aiming at the best working conditions, therefore ergonomics, ease of use, noise reduction, maximum safety in the workplace. Consequently is important the proactive synergy with customers to integrate our machines with other elements of production. This is why we also pay attention to accessory products and consumables. This also means working in an integrated way with our technology partners. Being part of the large group we have behind us, our strength is to bring technologies in-house with the acquisition not only as a range of products and subsidiaries in the world, but as technological know-how.
We will proceed along the path of innovation in the coming years, launching important collaborations with strategic partners for our core business, proceeding at a rapid pace with the closure of the objectives of our investment plan".
Uteco has always been a leading brand that has involved the entire supply chain to develop increasingly sustainable solutions. What are the main trends that will guide future developments in packaging and therefore in production technologies?
"We are seeing an ever more extreme hybridization of technologies: there is no longer the classic division of printing techniques, flexo, offset or gravure, but hybrid machines with units of one or another printing technology, including digital, as we can already see widely in the narrow web sector, especially for plastic and high speed printing. This trend is a mix of technologies and further treatments integrated into the machines, such as laminating and other processes.
Because the end customer requests that the product must printed not only on the chosen material, but with the best technology. These discussions include the choice of inks, for example water-based, EB, UV and UV LED: as regards these we were pioneers, with many machines installed around the world and with further developments in progress. With technological partners and internal research and development capacity, which only the largest and most structured companies with a strong ability to invest are able to deal with.
In such an integrated and interconnected world, we don't win alone, but with the support of our technological partners and investors, and of end users, both as regards product and technology development, for what are the packaging trends.
We are fortunate to be active in all types of packaging printing. One of our strong points is the development of technologies according to packaging trends and support materials. Especially since Uteco is present on the markets not only with flexo machines, but also gravure, offset and digital printing.
It is therefore natural that to follow this trend, high-speed technologies are required for a big production with in-line quality controls, so we focus on continuous updates with investments based on the developments of market demands, for primary and secondary packaging, from the print format, to the substrates, to the inks and to UV, UV LED and EB printing".