UPM Specialty Papers is excited to announce that the breakthrough oneBARRIER FibreCycle structure will be on display at Interpack 2023. This innovative high-barrier packaging provides a sustainable, recyclable, paper-based alternative to the multi-laminate plastic structures commonly used for long shelf-life products. Just as importantly, it can be recycled in existing fibre recycling streams.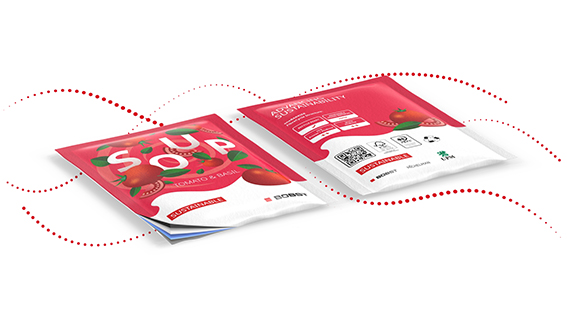 Co-creating the future
oneBARRIER FiberCycle is the result of a multi-year project in partnership with BOBST and Michelman, a developer of high barrier water-based coatings for packaging applications. By uniting their expertise from across the food packaging value chain, the group set out to create a recyclable paper-based packaging solution for foods with a long shelf-life.
Paper-based packaging for coffee, spices and other challenging end-uses
UPM Solide LucentTM offered an ideal basis for the development work. As a dense, smooth, and strong base paper, it is ideal for lightweight and uniform coatings. BOBST supplied the AluBond technology – an aluminium coating one-thousandth the thickness of a human hair and Michelman was responsible for the integrated coating system that provides priming, barrier properties and heat seal. Together these solutions have proved to be a powerful combination, resulting in a transformative approach to safeguarding food products with a long shelf-life, such as coffee, instant soup and sauce powder packets, spices, or milk powders.
"This is a truly ground-breaking solution for foods with a long shelf-life. These products are usually packaged in a variety of plastic laminates or plastic structures that are not recyclable. Our aim was to produce a recyclable, paper-based packaging solution – and we can say 'mission accomplished'. Now we're delighted to offer Interpack visitors a closer look," explains Janne Varvemaa, Director, Products & Technology at UPM Specialty Papers.
oneBARRIER FibreCycle is recyclable in existing fibre recycling streams. "Recycling is a must for any new packaging solution coming to the market. We can be proud of having accomplished that with an elegant, light-weight solution that is ready for commercial use," says Sara Alexander, Marketing and Communications Manager, Flexible Packaging Industry at BOBST.
"It is especially important to stay agile in the face of continually evolving legislation. By incorporating the highly versatile barrier properties provided by advanced coating technologies, we have been able to meet the performance needs and sustainability goals that are prevalent in the market", says Thierry Van Migem, Sales Director, EMEA, Michelman.
After launching in the summer of 2022, the oneBARRIER FibreCycle concept has garnered a huge amount of attention worldwide, both among packaging converters and brand owners. Attendees at Interpack 2023 will soon have the opportunity to see for themselves by visiting UPM in Hall 8, Stand 29.