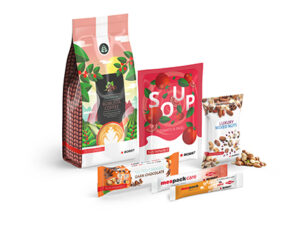 A interpack 2023 taking place in Düsseldorf, 4-10 May, BOBST innovations will be a major presence throughout the tradeshow, with several samples and machines shown at stands across the exhibition. BOBST staff will be on hand during the exhibition to discuss the benefits of these innovations with attendees.
oneBARRIER PrimeCycle
At several stands, companies will present converted samples of packaging using oneBARRIER PrimeCycle – a polymer-based mono-material developed by BOBST and its partners, which is recycle-ready while retaining excellent barrier qualities, making it a potentially groundbreaking development for sustainable packaging. PrimeCycle is an EVOH-free, top-coat free solution for full PE barrier and is an alternative to metallized polyester film.
Samples of oneBARRIER PrimeCycle will be shown at the following stands:
Poplast, a flexible packaging converter from Italy, will display oneBARRIER PrimeCycle samples including coffee stick packs and rolls. The samples also utilize oneECG gravure printing – BOBST's Extended Color Gamut (ECG) technology, ensuring consistency of brand color and limiting waste. Stand B11, Hall 8a.
Mespack, an international manufacturer of flexible packaging machinery with headquarters in Spain, and production plants in Des Plaines, Chicago, and Vadodara, India, will form, fill and seal through a new vertical machine designed for the pharma industry, samples of a designed pharma stick pack made by oneBARRIER PrimeCycle and printed by oneECG rotogravure. The new equipment will feature in daily live demos, totally connected with a box-cartoning machine. Stand B57-B73, Hall 6.
Dow Packaging and Specialty Plastics, one of the world's largest producers of polyethylene resins, and the innovator behind the film technology enabling the oneBARRIER PrimeCycle project, will display sample pouches of oneBARRIER PrimeCycle for coffee and luxury nuts, as well as stick packs for both pharmaceutical and coffee applications. Stand A30, Hall 9.
Sun Chemical, a leading supplier of inks, coatings, and adhesives, and the company that developed a vital adhesive for oneBARRIER PrimeCycle project and one of the partners for the primer, will also display the sample packaging for coffee and luxury nuts. Stand B03, Hall 7a.
oneBARRIER FibreCycle
oneBARRIER FibreCycle is another member of the oneBARRIER family. It is a high barrier, paper-based, recycle-ready solution created in response to increasing demand in the industry for more paper-based packaging options.
Attendees at interpack will be able to see samples of converted packaging at the following stand:
UPM Specialty Papers, a leading producer of packaging and label papers, and a key partner with BOBST and Michelman in the development of oneBARRIER FibreCycle, will show samples of converted packaging using this innovative paper-based solution. Stand F29, Hall 8A.
"Because all the oneBARRIER samples on show at interpack have been converted and printed on real scale equipment, we can be sure that the quality and barrier performance of the packaging is maintained along every successive conversion phase. Ultimately, this means that they are ready for commercialization" said Sara Alexander, Marketing Manager Flexible Packaging at BOBST.
Other solutions on show
The new oneBARRIER solutions are not the only BOBST innovations on show at interpack.
BASF, the world's largest chemical company and industry leader, will display samples of packaging material co-created utilizing BASF's water-based adhesive laminated on a BOBST laminator. Stand B43, Hall 10.
AMB, a leading international company in the food and food packaging industry, will be presenting together with BOBST and BASF the best practices and benefits of a full water-based set up, from printing to laminating. Stand C04, Hall 9.
Morchem, a global supplier of adhesives and coatings for the flexible packaging industry and other lamination technologies, will show samples laminated using a BOBST NOVA SX 550 laminator, which will be available to see on their stand with daily live demos throughout the show. The NOVA SX 550 laminator is a solventless modular laminating machine, which redefined flexibility, productivity and ease of use. Stand D82, Hall 10.
Metsä Board, a leading producer of premium fresh fibre paperboards, collaborates with the Bobst Mex Competence Center to perfect the understanding of Machine-Material interaction. Indeed, they will showcase folding carton packaging that have been produced on BOBST flatbed die-cutters and folder-gluers. Stand D49, Hall 8a.
"If there's one theme uniting our presence at interpack 2023 it is the power of partnerships," said Sara Alexander. "Industry collaborations are so vital in areas like sustainability, where innovation is required in an unprecedented timescale throughout the whole value chain. We are proud to have a presence at so many of our partners' stands."
Visitors to interpack may be interested in visiting one of BOBST's European Competence Centers, where they will have the opportunity to view, understand and test printing and converting solutions. The demos can be physical or virtual, and completely tailored to clients' requirements. Go to www.bobst.com and find your local contact information from there.