The multinational of paper-based packaging wins again this year two coveted awards in the competition dedicated to innovation and eco-design of packaging, thanks to the creations made in the factories of Susegana (Tv) and Orsenigo (Co) Italy, entering ranks among the top 20 solutions judged to be the most sustainable at national level.
Once again Smurfit Kappa Italia is among the companies awarded by Conai – the National Packaging Consortium – for the eco-design of packaging in the circular economy. 326 projects participated in the 2021 edition which, according to the Consortium's calculations, achieved an effective reduction in the environmental impact of packaging quantifiable in the containment of 28% of carbon dioxide emissions into the atmosphere, in the reduction of energy consumption by 21 %, and in water savings of 10%.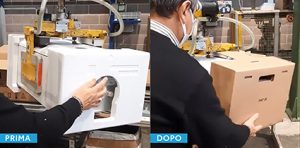 Smurfit Kappa Italia was awarded among the top 20 thanks to the project designed and built in the Veneto factory in Susegana with the innovative packaging created for BSG group (Biasi – Savio Group) which produces boilers. Smurfit Kappa Italia designers have designed a solution aimed at completely elimination of polystyrene inserts that are normally found inside the package to block the boiler at the ends. Instead of the two protective Eps interiors, two interlockings in 100% recyclable die-cut cardboard and made from 100% recycled material have been created.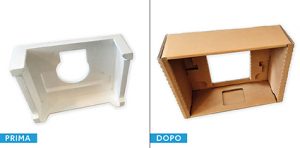 In addition to guaranteeing the same protection and maintaining the same level of safety, the new solution offers a logistical advantage for customer's transport and warehouse, because 340 cardboard interlockings are placed on the same pallet compared to 120 in polystyrene. To all this is added the benefit for the planet, thanks to the significant reduction of materials with high environmental impact.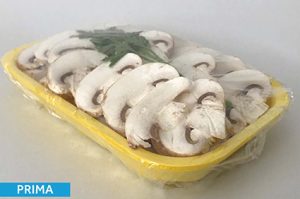 The eco-sustainable tray for mushrooms from the Porretta farm was created in Orsenigo factory (Como). It is a tray from the Safe & Green line, a Smurfit Kappa brand dedicated to the wide range of paper-based trays certified to contain food products. The award-winning packaging was specially created for the "Le Ghiottone del Contadino" line, the first eco-sustainable mushroom pack in Italy, made of 100% recyclable flat cardboard that replaced the previous polystyrene trays.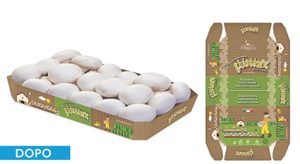 "The awards received by Conai are a confirmation of our approach to customers and environment, which we feel is a great responsibility", comments Gianluca Castellini, CEO of Smurfit Kappa Italia, "thanks to the Better Planet Packaging initiative and the targets that the Group has set, we will reduce CO2 emissions by 55% by 2030 and by 2050 we will produced at zero emissions. An ambitious goal that we are committed to achieving thanks also to our customers, united with us in this path".