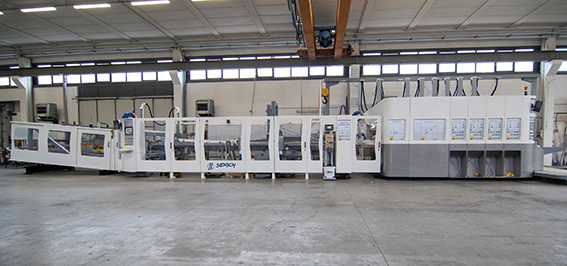 The acronyms of the machine anticipate the customer's choice: a completely vacuum machine, with bottom printing and direct motors for a 1272×3100 format.
What are the main features of this line?
The Flexo Folder Gluer  Royal VB DD is composed by a Lead Edge Feeder  with 4 rows of wheels and electronic lifting management to allow extended introduction and limit the crushing of the sheet.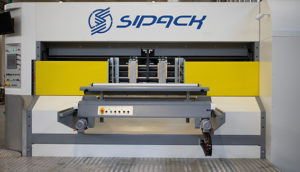 Feeder gauges are particularly strong and independently adjustable via 2 actuators. The introduction is a step that needs special attention as it's often critical due to warped sheets or lower quality ones. Thanks to Sipack's Lead Edge, management is simplified.
The 4 bottom printing units are equipped with direct-drive technology to increase the printing accuracy. The cliché pneumatic locking system is designed to optimize the swap over time and simplify the installation of the printing cliché perfectly positioned, even if big, even when held by just one operator. Quality printing requires systems that reduce ink consumption. For this reason, Sipack has chosen to install carbon chambers doctor blades. With a market growing on ambition and quality, with frequent changeovers, printing systems that help to economize are even more relevant and Sipack responds to these challenges with smarter and user friendly machineries, bringing real value to the producer.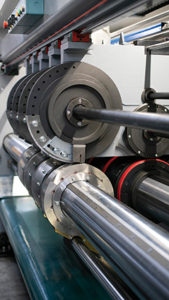 Even the slotter, with four pairs of shafts, has been equipped with a robot that smoothly and extremely precisely moves the cutting heads in any position, in order to easily manage the request for different formats without the operator's direct action thanks to the double extended slotter.
Robust and precise pre-creasing and creasing with innovative design to prevent trims from jamming in the unit and allow long runs at high speed.
Folder gluer and the counter ejector section is designed with the same concepts. The electronic gluer, which can be installed on both sides, is designed to work at high speed and with a considerable saving of glue and maintenance; the vacuum transport and the toothed belts follow the box until it is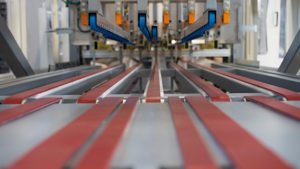 completely closed without fish-tailing , and the system of wheels with pneumatic pressure crushes the sides of the box, preventing its reopening.
The counter ejector Royal which is fast, precise and suitable for all types of boxes (even die-cut ones) completes this line of quality and efficiency.