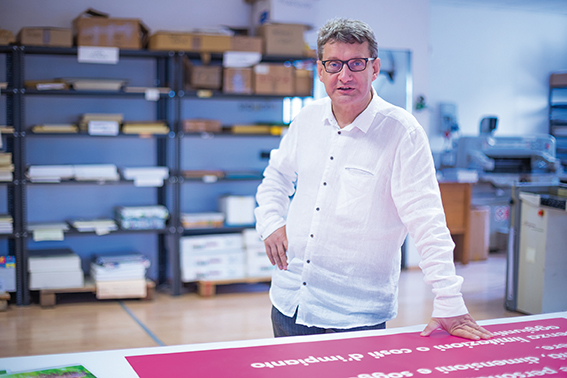 Multiform and dynamic printer located at Bricherasio (TO) and reference for those who want to find a complete graphic service that ranges from digital printing to labels to cardboard products; today with the installation of the AccurioPress 6100 digital solution by Konica Minolta, the company can digitally print in 33×130 cm format, with excellent print quality on a wide range of media, all at a low cost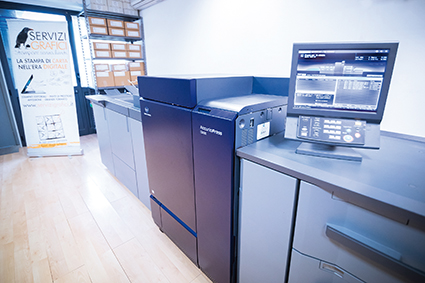 Servizi Grafici was founded in 1980 as a photocomposition laboratory, which later became digital with Mac workstations, and has evolved over the years following the development of communication that has changed several times in 4 decades. In the mid-90s they started with digital printing: "I considered it already an important and promising market, firstly because the profession of pages composer was evolving and because I was certain that I had to do something new, but always in the field of communication, moreover the knowledge of prepress operations made us feel sure, so we started with a small machine, confident that digital printing was the future; we landed soon also on internet, on 12 June 1998 the website www.servizigrafici.it opened; we anticipated times and we are and will always be open to innovation and change, it is in our nature always to take new roads and propose ourselves with new ideas", states Stefano Cardetti, owner of Servizi Grafici.
Today the range of services offered by Servizi Grafici, which has a dozen collaborators, is really wide: prepress with in-house graphic studio (consulting on creativity jobs and management of variable data integrated into the graphics); small and large format printing (also with white and transparent printing) all digital (for offset printing there are external partners); publishing and labels; communication consultancy for companies, shops and professional offices, personal training for communication with social media and document management (relative to the graphic aspect).
In 2002 the company moved to the current site, 600 sm. "In recent years we have consolidated our presence in the world of communication with services such as variable data printing, both in small and large format to be able to offer a complete communication service, a 'graphic service without limits', because I am convinced that for a small company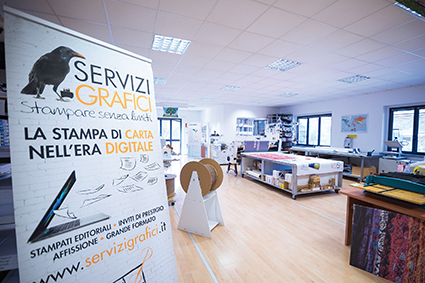 to offer many different services is the only way to prosper; we want to create a complete communication at the right price, and only digital printing, on all media from paper to canvas to plastic, could allow us to offer such a wide range of applications, and we preferred to have all the machines we need at home, from printing to finishing (gold and silver) and final processing, because in this way we give the customer the finished product", adds Stefano.
The versatility of the services places the company in a position to face many requests, "often we have to explain to our interlocutors that what seems very difficult is easy to realize if you have the tools and skills to use them; another aspect is the preparation of printing. We take care of the file as much as possible before printing/publishing it because we are aware that this makes the difference like the quality of the printing solution", explains Stefano.
With AccurioPress 6100 higher quality and speed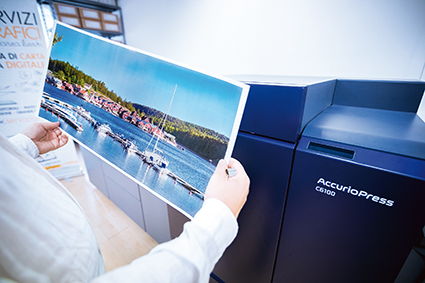 Stefano knows digital printing market very well, therefore he is an advanced user and very difficult to convince. The company needed to acquire a more modern technology, with good performance and quality at competitive prices. After careful research it was evident that the AccurioPress 6100 had the right features: speed, quick start-up and job changeover times, top printing stability with a 33×130 cm format, a very wide range of substrates up to 400 g. "So we have maintained and expanded the range of jobs offered before its installation; reliability and stability are further enhanced by Simitri HD E proprietary polymer toner, with excellent performance in color transitions, which are soft and natural and the special composition of the toner allows a lower melting temperature, which reduces paper stress,  so as to guarantee an off-line processing and finishing without problems", says Stefano.
The machine, which has been in production since 2018, is also equipped with a workflow system agreed with Konica Minolta which has allowed the integration of the new machine with the production processes already in use.
Compared to the previous machine, the print format has increased, quality has improved, the range of supported papers has been expanded and costs have been reduced, satisfying the most important need: rediscovering competitiveness in a constantly evolving market to acquire new customers in BtB market (especially for reduced costs) and BtC (greater equipment flexibility).
The ecological commitment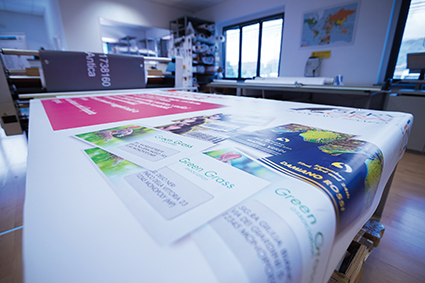 For over 10 years the company has been operating with a low environmental impact system. The brand ECO Servizi Grafici demonstrates its commitment to finding solutions with low environmental impact.  Use of non-toxic inks and lower energy consumption printers, self-production of energy with photovoltaics, use of recycled or certified paper, a photovoltaic system capable of producing 24,000 Kwh per year; a careful policy of separate collection, optimization of transport trips and waste disposal make it possible to reduce the environmental impact of waste, especially paper, allowing an almost total recycling.
"Unfortunately, the fallout as regards the market, at the moment, is minimal. Some Entity begins to request this attention. In a highly competitive market, price and service are the two strong factors that determine most the acquisition of a new customer, however we believe in it and we go straight for our path", declares Stefano.
At Servizi Grafici is time for calendars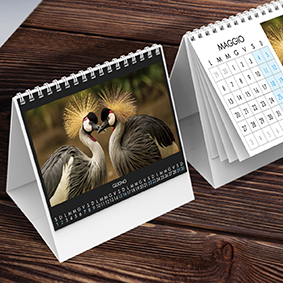 On the company website it is possible to personalize and order products independently: over the years it has changed from a site aimed at telephone contact to an e-commerce website that sells online what Servizi Grafici prints. Furthermore, behind the site there is a platform that manages all the workflow, from warehouse to invoicing passing through budgeting, order and customer management, all integrated in a single SW that manages orders and prices of materials. "The site serves to bring out our peculiarities which are: flexibility in handling requests, ability to manage variable data and offer free consultancy in the pre-sales phase, even for marketing or distribution operations", concludes Stefano.
With regard to cardboard products, Servizi Grafici produces calendars with an excellent quality-price ratio. On the site you can choose from many types such as illustrated calendars, Dutch calendars, boxed calendars and even counter-top calendars.
With the new machine you can also print small batches of folding cartons, customizing them with numbers, codes, images for marketing campaigns, lotteries, sweepstakes and even for the traceability of the product contained.