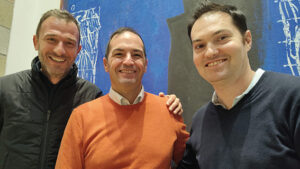 SERVIFORMA – DIE-CUTTING TECHNIQUES FROM A TO Z is a highly successful training programme designed and implemented by Serviform, a leading company in technologies and services for die-cutters, paper processing industries and box manufacturing plants. Now in its 7th edition, SERVIFORMA – DIE-CUTTING TECHNIQUES FROM A TO Z has become the benchmark for all operators in the sector. SERVIFORMA will go on tour in 2023!
It was the year 2017 when Serviform launched a unique training course in Italy to meet numerous requests from its customers. This tailor-made training course for Italian die-cutters is called: ServiformA, die-cutting techniques from A to Z. After six years – including those marred by exceptional restrictions of the global pandemic – the special training initiative that in 2022 trained 80 employees from 20 companies across Italy is now more popular than ever. In fact, this initiative will go on tour in 2023 to reach even those companies that for geographical reasons find it difficult to move their technicians.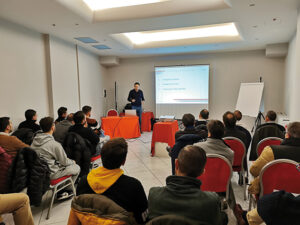 "Participants of this training programme are not only looking for theory, which is always very useful, but also for practical experience of working with paperboard and corrugated cardboard. We at Serviform share all our experience gained in the field, thus offering a really complete and useful course" emphasises Paolo Fedrighi, Serviform's Materials Sales Manager as well as organiser and speaker of the training programme.
The first travelling appointment of this kind took place last 13th January in Campania, in Mercato di San Severino. 20 employees from 7 die-cutting companies – all from Campania – attended with great enthusiasm Module 1 from 9.00 a.m. to 5.00 p.m., which is dedicated to design techniques, rubbers, cutting blades, creasing, extracting and notches.
Serviform had already offered an intense training activity in Caravaggio in 2022: 8 companies with a total of 13 specialists attended all three modules, thus completing the entire training cycle in three appointments between September and November at Serviform's headquarters. In addition, 4 companies requested the same training course to be held at their own premises with 47 employees, thus optimising time and costs.
That's why ServiForma will hit the road in 2023: the aim is to reach the companies – both customers and non-customers – that have not yet had the opportunity to apply for this course, thus literally bringing die-cutting know-how closer to their sites. This travelling edition will offer one module at a time (6 topics) in order to cover all topics in detail with ample space for questions and interaction. The training will start in Umbria and Veneto with the first module and in Campania with the second module (having already successfully concluded the first module at the beginning of 2023). The next modules will follow at the beginning of 2024.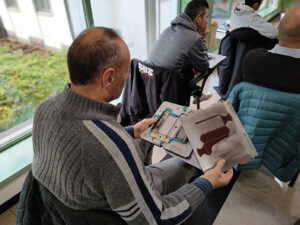 The training programme is dedicated to all paper processing industries and box manufacturing plants who are directly or indirectly involved in the die-cutting process: die-cutters, technical office staff, graphic designers, quotation managers and sales staff. It goes without saying that all interested companies from other regions of Italy are always welcome.
'To teach is to learn twice'.
The wisdom of French philosopher Joseph Joubert inspires Serviform in carrying out ServiForma. Serviform puts the exchange of experiences between participants at the centre of all meetings with the aim of offering practical and intelligent solutions to the everyday problems of die-cutters. Try to believe!
---
ServiForma – Die-cutting techniques from A to Z – Edition 2023
Dedicated to:
die-cutting operators of paper processing industries and box manufacturing plants; graphics office, technical office, quotation staff, sales department.
Objective:
to refine the techniques useful to make the production and use of diecutting tools easier, precise and profitable.
Structure:
4 topics at a time covered in the classroom with many practical examples and live demonstrations.
Timetable:
9 a.m. – 5 p.m.
Course Dates and Place:
UMBRIA – Friday 16th June 2023 Città di Castello
MODULE I
CAMPANIA – September 2023 (precise date and place will be indicated later on):
MODULE II
VENETO – October 2023 (precise date and place will be indicated later on):
MODULE I
Registration:
Paolo Fedrighi – SERVIFORM SRL
Tel. +39 0363 355811
email: pfedrighi@serviform.com – www.serviform.it/serviforma
Conditions of participation:    
Attendance of a minimum of 10 participants.
Price: 200,00€ per module
---