Printgraph Group is delighted to announce its partnership with Landa Digital Printing ® for the nationwide promotion of Landa S10 and S10P printing presses.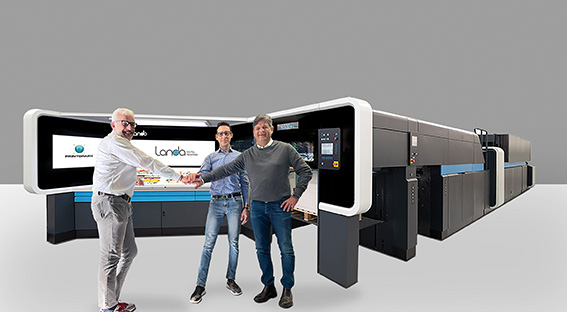 The new Printgraph partnership while is a disruptive decision represents also a consistent path for a company that in its sixty years of history anticipated the evolution of the industry, initially with state-of-the-art printing consumables and Today with its Finito® product range. The aim has been always to change the rules on both technology and customer processes, thus enabling operational improvements.
A Common DNA with Landa Digital Printing®, which with its Landa Nanographic® technology has since the first introduction captured the attention of the whole printing industry.
Landa shaped a unique technology, especially its revolutionary Digital offset system, suitable for different applications and today reached an ever-increasing number of installations all over the world, offering important advantages for both commercial and packaging printing.
A partnership, the one signed by the Printgraph Group and Landa Digital Printing®, which stems from a common vision: look to the future by actively focusing on present and contemporary needs of the printing industry.  This results in a strong synergy between the two companies.
Hence the partnerships will accompany the market towards and beyond Drupa 2024, the most important international trade fair event, that due to the pandemic, has not been held for seven years. A chance to attract a strong public curiosity about the latest developments in Landa Nanographic Printing® technology.
"We are extremely pleased and excited about this agreement that sees us joining forces with a group that shares our same values," commented Francesco de Nicolò, global account manager EMEA, and Roberto Levi Acobas, CEO of Printgraph Group. "Nanography is an environmentally minded technology that can offer benefits to the entire industry with a view to business development based on all-round sustainability, a commitment shared by the entire printing supply chain".
The Printgraph Group's entire sales staff, coordinated by Roberto Levi Acobas and assisted by Sales & Marketing Director Massimiliano Belardinelli, is at the complete disposal of customers for any kind of information regarding the Landa S10 and S10P presses.