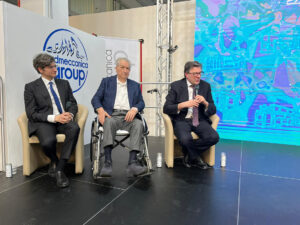 "Here at Nordmeccanica we see the reality of the Italian medium-sized company, backed by a solid family, principles, the ability to invest with a long-term vision and to play the game on international markets every day. As a government we try to create a favorable environment for all entrepreneurs who accept the challenges of the company and create wealth for themselves and for others", explains the Minister of Economy, Giancarlo Giorgetti, who inaugurated in Piacenza on 20th of March the new Nordmeccanica plant of 3000 square meters, where will be manufactured the machines for the laminating of different materials such as, for example, plastic films, paper, aluminum and metallized films and the metallizing machines, which allow the production of aluminum-based, but completely recyclable packaging films.
Giorgetti praised Nordmeccanica for its ability to continue growing, despite the heavy crises of recent years, and to invest in sustainable strategies. An example of this is the research project worth 5.8 million euros over three years, for the creation and introduction in the industrial processes of food packaging of a completely recyclable mono-material plastic film, carried out in partnership with the Research Center interdepartmental for packaging (Cipack) of Parma University. In 2022, the project obtained a loan of 2.7 million euros from the Ministry for Business and Made in Italy.
Nordmeccanica is the first company in the world for the production of machines for flexible packaging, with a market share of 75% in packaging machines and 65% in the field of industrial applications. The company is based in Piacenza and has more than 300 employees, six plants (four in Italy, one in China, in Shanghai, and one in the United States, in New York) and two direct operating offices, in India and Argentina, as well as a network of representations covering 87 countries worldwide. The 2022 turnover was over 110 million euros, 95% generated abroad with over 4000 machines sold worldwide (about 270 machines per year).