Gaiapack, a company of San Marino with a unconventional story told in September-October issue of Converter, does not stop and continues to plan its future.
This 2020 that is coming to an end, with all the well-known difficulties, was also the decisive one for the acquisition of a flexographic printing machine, a starting point for the growth underway. Nemo Mazza believes in continuous evolution and is already redefining its organization with the inclusion of some resources in its team, for the optimal definition of operational processes.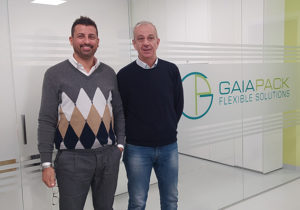 "Human resources are the real priority. The future is built with the best people, the most experienced grow and become the backbone of our young company", says Nemo Mazza.
Although the machine park is already fully operational and complete in the workflow (printing, laminating, cutting, pouches machines), Gaiapack management is already takings steps for a new investment plan that will lead to the acquisition of a new flexographic printing machine and a new machine for the production of doypack pouches.
"We want to throw our hearts over the obstacle, in order to better serve our customers, and also prepare ourselves to welcome new ones", concludes Mazza.