Ten years after the beginning of distribution and converting of blankets, Tecnorulli has inaugurated a new converting center where the reels of KINYO blankets, distributed exclusively for Italy, are cut and crossed out to supply the demanding Italian clientele.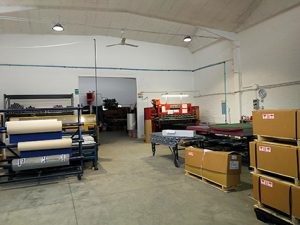 The new plant is located at short distance from Tecnorulli headquarters and compound production center and was necessary because the strong increase in sales, which even grew during the difficult 2020, had made the previous converting department located in a portion of the plant dedicated to production of rollers absolutely inefficient and inadequate to respond to strong market demand.
Thanks to the new converting center, Tecnorulli's already notoriously short delivery times are further improved also thanks to the depots in Milan, Rome and Verona site, all connected bi-weekly with company trucks. The success achieved by Tecnorulli is caused, in addition to the service offered, by the great quality of KINYO blankets distributed exclusively for Italy.
In fact, it is good to remember that Kinyo is the only large producer of blankets that has chosen not to produce in China to safeguard the quality standard of its products despite the undoubted advantages this choice would have in terms of cost reduction and therefore sales prices.
In the last period Kinyo presented new products, specifically Kinyo Olympia UV, new generation and very high quality blanket, specific for UV printing; Kinyo Olympia LE, designed specifically for LED/UV printing; Kinyo Saturn, created exclusively for conventional and UV-LED-UV printing and Kinyo Eos, specific blanket for quality printing in the cardboard converting industry.
Furthermore, the flagship and best-selling product of the Kinyo range, Europa model, has been renewed and improved thanks to its new finishing, which is able to meet the needs of companies that need to use a high quality blanket, but that it is ductile on different paper thicknesses and sizes, with conventional inks.