The flexographic market is developing towards more eco-friendly and recyclable solutions, reduction of waste and emissions – Lohmann's FLEXperts have also been focusing their activities on these future topics.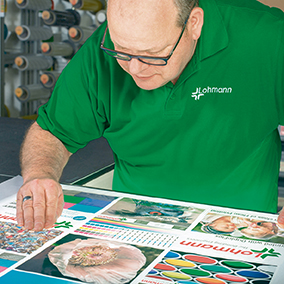 The latest addition within the Lohmann product range is the DuploFLEX® 5 GRIP portfolio of plate mounting tapes. It is based on a newly developed solvent-free pure acrylic adhesive for the right grip to the sleeve or cylinder. Combined with a choice of various qualified already established pure acrylic adhesives for an optimized bonding of the plate, the product is designed to meet the industries' requirements:  no edge lifting, smooth demounting, prevention of plate damage
The new solvent-free adhesive has a good chemical resistance as well as a highly consistent performance under different climate conditions. The result is a well-balanced performance and excellent print results, even at high printing speeds.
The DuploFLEX® 5 GRIP portfolio has been designed to offer enhanced reusability, evaluated under defined conditions in the Lohmann FlexoLAB.
The packaging for the products is 100% recyclable and available either as a single box or as large container box to even further reduce the amount of waste.
For more than 70 years, the Lohmann Bonding Engineers have been supporting their international customers in the flexo printing industry, ever-improving products, processes and print results.