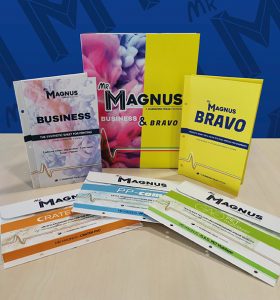 Mr Magnus grows up and prepares for his first official solo outing. Print4All will host the debut of this Guandong division, which will be present at Milanese event with a stand entirely dedicated to its exclusive product lines. On the one hand, the Business range, which includes special plastic sheets for digital, dry toner, offset and screen printing; on the other hand, Bravo, the "ready to use" specialty collection that includes smart DIY products such as fastening systems, double-sided adhesive tapes, stick-detach labels, rewritable blackboards and special sheets for laser printing.
"A few months after his presentation, Mr Magnus is already arousing great interest because with its solutions it makes printing on plastic sheets within everyone's reach, with every type of technology and system", explains Damiano Merlo, business manager of Mr Magnus. The new Guandong business unit therefore proposes itself as a true specialist in plastic sheeting, thanks to the great experience gained by the company in the printability of plastic substrates and printing techniques. "Mr Magnus was born by applying Guandong's deep knowledge in the field of plastic materials in rolls to the world of plastic sheets which, despite having other distribution channels and other interlocutors, have similar performances with different printing technologies and different inks", continues Merlo. All with the plus of sustainability. As with Guandong, in fact, even Mr Magnus brand solutions are made with recycled, recyclable or regenerated materials, have green packaging and comply with the strictest European standards in terms of safety, reduction of pollution and environmental protection.
Magnetic and ferrite sheets, backlit, stick-detach without glue, with Ar discharge®, with adhesive fabric and full-PET: here are some examples of Mr Magnus Business range that will be presented at Print4All in a very rich gallery of applications created with systems ranging from dry toner to digital UV, from screen printing to offset, including oxidative inks and digital offset. A versatility that also includes the available sizes, from A4 to B1 (70×100 cm), up to tailor-made solutions. Precisely for this reason, an entry level cutting system for product customization will be in operation at Mr Magnus stand for the entire duration of the event. Mr Magnus will also be the protagonist at the nearby Tosingraf stand, where different materials will be used in live cutting demonstrations on an ADC 50×70 automatic digital die-cutter.