Grafikontrol will introduce all its TQC-360° systems of quality control and register control for rotogravure, flexo and offset sectors for packaging and labels. There will be live demonstration using two rotary simulators.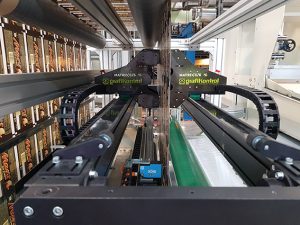 MATRIX PLUS: the web viewing system is an area camera that moves across the web taking high quality snapshots of the whole running web. The 9,5 Mpixel camera resolution ensures fantastic quality and realistic colour reproduction. MATRIX PLUS can be loaded with multiple options such as statistical inspection, delta colour monitoring with ∆E, barcode verification, print repeat monitoring, UV coating visualization and transparent varnish inspection.
MATRIX C/S: it is the new dual camera system for simultaneous display of the correct superimposition of the front print with glue or varnish applied on the opposite site (duplex register).
PARVIX: it is equipped with a 1,3 Megapixel digital color camera that allows to display a 150x110mm field of view on a 24" multi-touch monitor. The high-brightness optics equipped with 10X motorized zoom combined with the newest generation of high efficiency LED illumination allow snapshots of the running web providing  the operator with clear and dot-sharp images of all printing process and substrate.
LYNEX PLUS: it is a true 100% inspection system that can be used as a stand alone system or integrated with MATRIX PLUS. LYNEX PLUS can compare live printing with the PDF file that has been used to produce the printed plates or the gravure cylinders. That provides the operator with the ability to verify if the print matches with the original file.
LYNEX-S: it is a 100% print inspection system for gravure, flexo, offset, dedicated to narrow web and neutral film including all the LYNEX PLUS features.
LYNEX C/S: it has been designed to inspect the 100% of the web for coating, varnish or cold-seal on printed or base substrates.
CHROMALAB: in-line real spectrophotometer, to monitor the colour trend of all printed colours; the system provides real time measurement and trends of Spectral curves, Density, dot gain, L*a*b*, ∆E.
PROGREX PLUS: a combination of the functions of MATRIX PLUS and LYNEX PLUS to form a complete tool, that helps the user with each print phase on gravure flexographic and offset presses.
CR33-CR34: register controls for rotogravure and flexographic presses that ensures register stability among colours for the entire production and reduces waste.
EASY-TRACKER: a unique and innovative system for a full defect traceability and removal from printed rolls.