Guandong, the specialty specialist, from this the hashtag #theSpecialitieSpecialist launched at Viscom Italia last October, is an Italian company that has made the research for special materials, for digital printing and beyond, its core business, with a high-level consultancy service, combined with a natural propensity in spreading the culture of digital printing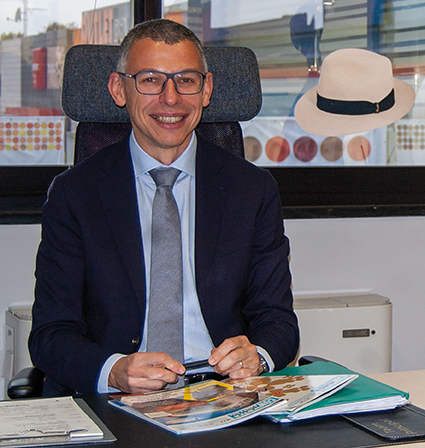 Guandong is a totally Italian company, founded by Edoardo Elmi, a great entrepreneur, I would venture to call him a visionary, with an infinite baggage of experiences behind him and the enthusiasm of a young boy, who has been able to see before the others the great opportunities that could derive from the study of innovative substrates for the world of digital printing. A direct contact with manufacturers of high quality materials in China, with whom are studied and developed in partnership highly innovative and performing products such as nanotechnologies, to place them on the visual communication market through a dense network of distributors, built both in Italy and in Europe. "We manufacture in China, it's true. But the focal point of our business is not the place where production takes place, but the certainty that the substrates that we insert in the range contain our know-how, exactly as happens for example with high-tech products", begins Daniele Faoro, CEO of Guandong, based in Caleppio di Settala a few kilometers from Milan, and casually just over a couple of kilometers from Converter offices in Pantigliate. Despite this closeness and a more than ten-year knowledge, between fairs, press conferences and special events that Guandong has proposed in recent years, also thanks to the fundamental contribution of Cristina Cortellezzi and the staff of Pinkommunication, the opportunity to visit their headquarters has never come. So, when during the last edition of Viscom, I launched Daniele the idea of ​​having a coffee together, the proposal was received with enthusiasm.
Guandong's vision on the world of packaging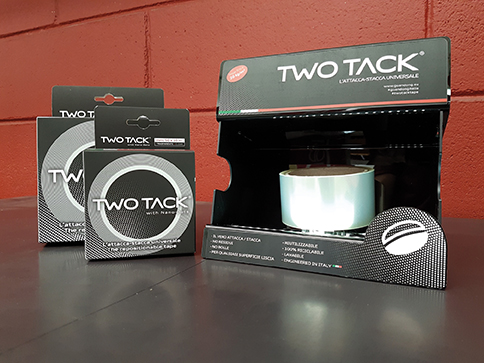 Daniele, an extremely pragmatic company man, wastes no time and, discussing in front of our well-deserved and indispensable coffee (I visited Guandong on a gloomy, typically Milanese day of late autumn), starts immediately describing me his idea of ​​what packaging and this sector represents in his company's strategy. "The element that mainly attracts the consumer who enters a supermarket today is the display, made of cardboard or other durable material, which contains the product, to which are added all the messages conveyed both through the packages but also through auxiliary tools that however compose the packaging solution", began Daniele, immediately hitting the focus of my visit to Guandong.
One of the latest products launched on the market by Guandong is the Two Tack®, a special double-sided tape, packaged in a beautiful box made of opaque stretched cardboard with a pleasant touch effect, inserted in a plexiglass display. "This packaging solution, that is, both the box and the plastic display, was provided to us by the cardboard converting company itself", adds Faoro, underlining a trend that has been going on for some time now that sees cardboard converting companies called to perform a different function than that of the sole cardboard packaging supplier. Packaging, in fact, is no longer just the box, but it is all that revolves around the product and its marketing. So an exhibitor, made of many disparate materials, is also to be considered an integral part of the packaging, as well as the label, the box, the poster, the video wall, which together build a communicative mix essential to stand out in the store and attract the consumer.
Guandong solutions that wink at cardboard industry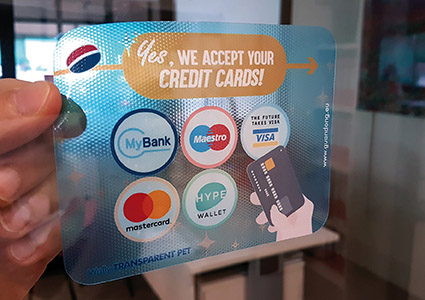 Guandong is not specifically active in the box market but boasts a range of products in the range that can rotate around that box. These are special materials, dedicated to both digital printing and offset, and which can help to give life and animate packaging solutions. The Two Tack® tape, for example, is a double-sided tape that offers very high adhesion thanks to Guandong's proprietary "stick-peel" nano-dot technology, which allows to be applied and removed many times without losing the adhesion properties and without leaving residues on the surface because it is glue-free. Two Tack® also finds application in packaging solutions, such as binders with closure or boxes, in place of plastic or magnetic buttons, offering the same functionality at significantly lower costs.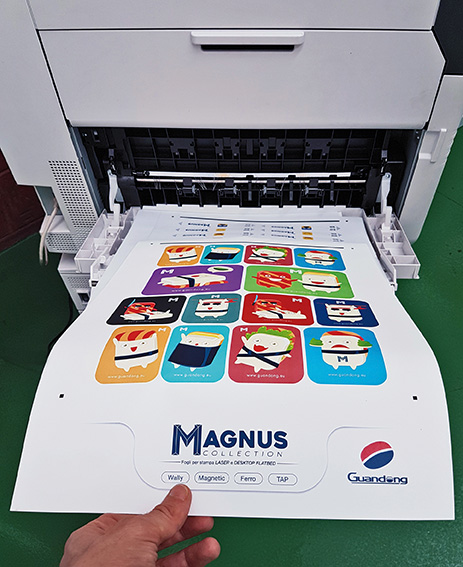 For the realization of a display with variable data it is possible to use this special double-sided adhesive to apply multilayer messages, taking advantage of the large capacity of this product, up to 20 kg per square meter.
But packaging today is increasingly the label itself. For this world, Guandong has Wally in its range, a product based on nano-dot technology, which allows a continuous attack-detachment, perfect for window stickers, vehicles (in Milan there are around 200 taxis decorated with nanotack – editor's note), but also for the personalization of displays and cardboard displays. Wally, which is part of the Mr. Magnus range, is printable both digitally and in offset, as well as magnetic products, made of paper and polypropylene with a ferrite base to guarantee adhesion. An absolute novelty for the most varied applications, including displays, signage, packaging, with one limit: the imagination of designers.
The products for offset-digital printing
From large to small format, from digital to offset, today the graphic services company must be able to offer various applications to its customer. "About three years ago we acquired large format products and converted them into products suitable for laser printing and small format flat-bed machines. Introduced to Viscom almost as a game, they had an incredible success, forcing us to jump through hoops to have this material ready for sale. Two years later, the first large-format offset-digital printer, the Komori IS29, arrived on the market. Thanks to some installations in Italy, we were contacted by the Japanese manufacturer because Mr. Magnus, tested on their machine by some experimental customers, has given exceptional results. From there we have developed together with Komori a range of products for digital offset printing, which can be printed with traditional inks, but also with vinyl inks and therefore also in screen printing", adds Faoro.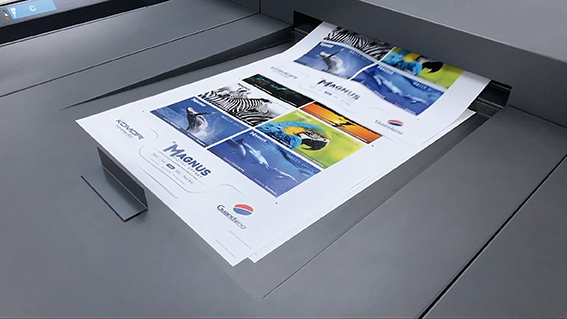 These special materials, compatible with offset and digital machines, cutting plotters and die-cutters, represent precious allies for a traditional printer, who can differentiate himself by offering his customers unprecedented solutions. It should be emphasized that in Guandong there is a team of highly specialized professionals, with specific skills both on materials and printing processes, always available to companies that want to deepen their knowledge of these special materials or even to support the printer and his client in the development of new projects. "A few months ago Damiano Merlo joined our team, which boasts an important know-how in the world of offset printing. Certainly, his experience and his specific skills will be a valuable contribution to make us known further in this sector", added Faoro.
The morning flew away, discussing technologies, products and strategies. In addition to the many interesting information, Faoro's great passion for the company and its work has emerged. What should have been a quick interview naturally turned into a pleasant and thorough discussion at the end of which Daniele greeted us by sending a positive message to the printers. "In addition to digital printing, there are sectors full of opportunities still unexplored. Digital is not a market, but a technology. Today in every office there are digital printers with which it is possible to create beautiful applications. For example, when we installed the dispenser in the office, our water supplier asked us if we wanted it personalized with our logo. When we explained what they could do with our materials, a world opened up to him, and through dialogue with his printer, thousands of personalized labels are made today. Guandong's job is certainly to distribute materials. But our catalog is the result of commitment to experimentation and research. Each year we invest around 8% of our turnover in R&D. The other front on which we are constantly active is working alongside agencies, architects and designers to stimulate them in offering themselves to their customers with simple but innovative solutions that are able to stand out on the market. Guandong must generate culture and can do it through the circulation of ideas that feeds the virtuous circuit of business", concludes Daniele Faoro.
Guandong and sustainability
"Ecology is a concept, a lifestyle: in our role we are committed to guaranteeing the high quality of the product made with the lowest energy cost, while taking into consideration at the same time the scrupulous recycling of waste that cannot exceed 30%.
The right balance must be found between the type of recycling, product quality and energy consumption. For example, if the energy cost for recycling a certain type of resin is higher than the cost of the basic raw material, then serious questions need to be asked. This is the policy we apply in developing our constantly evolving catalog. It is certainly important to offer products that know how to respond to market trends, and if today the market is overwhelmed by a wave of ecology, we have been on this path for some time, therefore ready with a multitude of proposals, selected respecting our professional ethics".