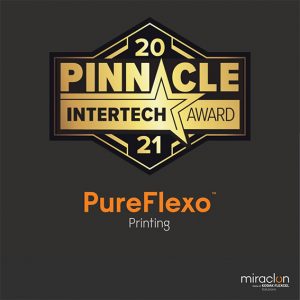 Miraclon, home of KODAK FLEXCEL Solutions, has received a Pinnacle InterTech Award for PureFlexo™ Printing, a new technology that was launched earlier this year.  Accessed through the FLEXCEL NX Print Suite for Flexible Packaging, the technology addresses and controls unwanted ink spread to allow a wider operating window; maximizing efficiency, repeatability, and overall performance on press. The award, sponsored by PRINTING United Alliance and bestowed for truly innovative technologies likely to have a significant impact on the printing and graphics industry, is the fifth commendation from PRINTING United Alliance for award-winning KODAK FLEXCEL NX Technology.
"Advances in flexo technology have raised print efficiency and quality over the years and Miraclon's innovation raises it even further," said James Workman, Vice President, Technology and Research, PRINTING United Alliance. "The judges recognized the production benefits that the advanced multi-functional surface patterning delivered through PureFlexo Printing brings to the press room."
PureFlexo Printing utilizes patented Miraclon technology created by the same R&D team responsible for the invention of the proven FLEXCEL NX System launched in 2008, building upon the innovation Miraclon has brought to the market over the past 13 years. Unique to the KODAK FLEXCEL NX System, PureFlexo Printing brings a wider operational window regardless of line screen, with compound savings from fewer unscheduled press stops each day, reduced downtime and delays, and faster color setups. Designed specifically for wide web solvent ink on film applications, PureFlexo Printing maximizes press efficiency, repeatability and overall performance while enabling printers and prepress providers to experience cleaner print, stable color, and a better bottom line for their business.
"This esteemed award, which represents the complete graphics industry, underscores our commitment to continue developing technology that can enable the flexo printing industry to drive its transformation into a sophisticated manufacturing process," comments Dr John Anderson, Director of Advanced Print Applications at Miraclon. "PureFlexo Printing allows printers to reset the quality-efficiency balance, which has been under pressure due to ever-expanding graphics demands. By addressing the root cause of issues that result in unscheduled press stops, this technology will not only enable users to push their own bottom line, but to also push the boundaries of flexo printing as it's known today."