Kongsberg Precision Cutting Systems (Kongsberg PCS) has announced a new partnership agreement with software supplier PrintFactory, with an integrated production suite specifically tailored for innovative Kongsberg cutting tables.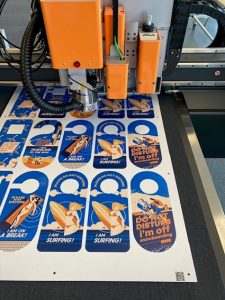 "This is a very exciting announcement for us as it marks the first software agreement we've entered into since becoming a standalone business earlier this year," said Stuart Fox, President of Kongsberg PCS. "At that time, we declared our intention to work with other leaders in the field, and this is the first of what we expect to be numerous such partnerships that will further deliver excellence to our customers around the world."
PrintFactory is a production suite for the print and finishing industry, comprising workflow software that handles repetitive tasks using network apps, smart tools and XML instructions to increase production speed. "PrintFactory achieves this while also being focused on color management with their smarter RIP, powered by a world-class color engine, for perfect large format digital prints," said Stuart. "With Editor, Layout, Printstation, just-in-time tools and cloud components, the new integrated software can be used in combination with the Kongsberg iCut Production Console (IPC) to allow pre-press corrections to original files in almost any format."
Erik Strik, CEO of PrintFactory, said that with the Editor tool, fonts, color corrections and layout changes can be made without the need for expensive third-party design apps. "Access to PrintFactory Layout means that manufacturers can now print and cut, nest and create double-sided jobs. It handles white generation and specialty colors and includes special tools for various segments – all-in-one tool for preparing jobs," he said. "Printstation helps with workload balancing and gives teams more control over production, making distributing the load easier, while the Just-in-Time Nesting tool allows users to make smart, automatic changes or manual adjustments to jobs up to the last second, without slowing down production".