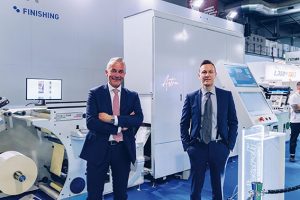 It was one of the most animated and therefore visited stands of the last edition of Print4All, partly because one of the few with a printing machine in operation, but also and above all for the idea of ​​an innovative format put in place by Nicola Lombardi, marketing manager of the Brescia-based company, and protagonist of many interviews in his sitting room at the fair with the protagonists of our industry. But beyond the form, which is anyway important, it is the substance of Lombardi's presence that has hit the mark, with a focus on the new Astra inkjet printing module, the real novelty brought to the fair and inserted in line with the Digistar module.
With this solution Lombardi is also diving into the inkjet adventure, in the past faced with external partners, while now, as Nicola points out, "the idea is to have all the know-how in our hands, a guarantee of quality according to our standard, not only in the construction of the module, but also the guarantee of a prompt service to our customers, to whom we prefer to respond directly, according to our methods and standards and without having to depend on anyone".
Astra, which can be a stand alone or in-line module, is available in sizes 330, 430, 530 and 600 mm, with a maximum substrate width of 600 mm, clearly also targeting the flexible packaging market.
This is an interesting proposal as there are already several hybrid presses covering the label space, but there is not much competition in the 620 mm wide mid-range market area, where Lombardi already has flexo presses. in its range. Astra is equipped with Fujifilm Dimatix SG600 printheads, each with a print width of 65 mm.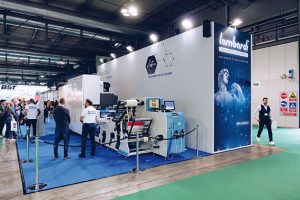 The version exhibited in Milan was the 330 mm with five heads for each color, but it can be configured with up to eight colors, including CMYK plus orange, green and purple in addition to white. Astra uses UV ink with application after cyan, magenta and yellow heads to maintain dots size and a final LED that dries immediately after the black printhead. Another interesting aspect, not to be underestimated when it comes to digital printing is the fact that this is an open module regarding the use of inks, using different brands on the market.
"For us, the Milan fair was an important starting point, we collected great interest, signed the contract for the sale of a machine, met historical customers but also new companies, which give us further motivation to continue investing and developing solutions for the label and flexible packaging market", concludes Nicola Lombardi.