On the occasion of the 50th anniversary celebration, we had the honor of visiting Laminati Cavanna, a reference point for all Italian printers and converters, as well as the pleasure of chatting with its founder Giancarlo Cavanna and his daughter Anna Paola who told us a bit of history but also their many future projects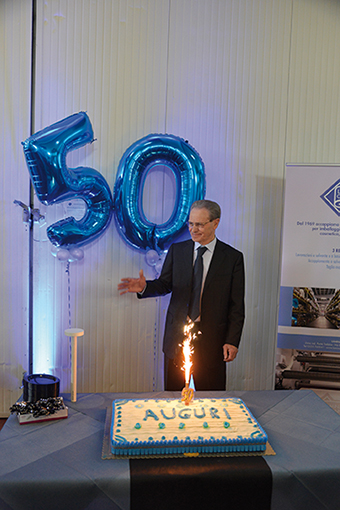 Boarding at Easy Jet flight from Barcelona to Milan, coming back from Giflex 2018 autumn conference, a quick presentation, a quick dialogue and I met Anna Paola Cavanna. I knew her company by name, and she knew our magazine too, but there had never been a real meeting, and boarding the plane I had the pleasant feeling of having met an affable and nice person, one of those who put you at ease right from the start. I did the classic "knot in the handkerchief", making this promise to myself: I should visit her company. No more than 6 months have passed and I am in Calendasco, near Piacenza, at Laminati Cavanna site. They celebrated 50 years of activity this year, providing me a good opportunity to go there.
Laminati Cavanna, a long-time contractor company, took its current name in 1988, but its roots date back to the late 1960s when Giancarlo Cavanna, who in the meantime grew up in important companies in the sector, decided to start his own company, focusing its activity exclusively in the laminating sector, and therefore to the total service of printing and converting companies.
Extremely pleasant person, but little accustomed to celebrations, Giancarlo Cavanna was almost obliged by his daughter Anna Paola to celebrate the event and within a few weeks a nice party was organized with employees, customers and suppliers, to give the right emphasis to 50 years of entrepreneurial history and paying tribute to the company but above all to his father Giancarlo, who, breaking away, begins with pleasure to tell us his story.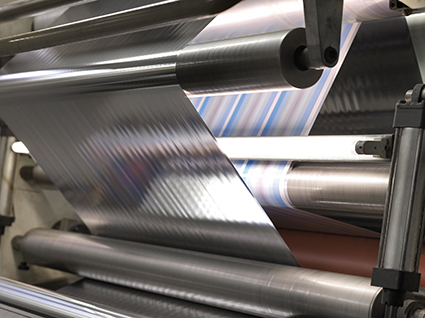 "I started in the 1950s as a printer, working at San Paolo publishing house and I participated in the rotogravure printing of the first issue of Famiglia Cristiana (a well-known Italian Christian magazine) on a Cerutti rotary press.
But it's at Castagna Univel, where I started working as a production manager, that I started my adventure in the world of packaging. After 12 years as an employee, with more and more responsibility assignments, driven by the desire to grow further, at the end of the 1960s I decided to start my own business in the field of lamination, investing 3 million lire of my severance pay", remembers Giancarlo Cavanna.
"The detachment from Castagna Univel was not simple, the owner Achille Castagna, an extraordinary person and very honest, was for me a master of life first of all, but he was very disappointed when I decided to open my company, at such an extent that our relationships were interrupted for a few years.
One day I saw him enter my office, and from the next day I began to serve his company as well. Today we serve all the most important manufacturers of flexible packaging and some foreign companies", adds Cavanna.
An activity focused straight away on films lamination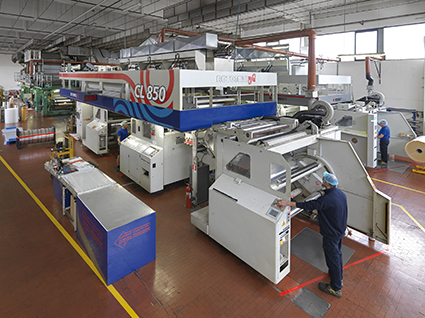 A first laminating machine, especially built by a company in the area, still working, a customer base that has gradually grown, and here we are to tell the successes, but also the difficulties and the risk that an external contractual activity leads.
Today Laminati Cavanna employs 49 people, includes 16,000 square meters (of which 8,000 are covered) divided into three factories, dedicated to solvent, solventless laminating and a high-tech warehouse, able to accommodate up to 4,000 pallets. Machines fleet is composed of seven laminators, some historical and others more recent (the most recent arrived in 2017), four solvent-based (two Bobst duplex, one Nordmeccanica and one Schiavi triplex) and three solventless (two Nordmeccanica and one Schiavi), while in the cutting department there is a slitter-rewinder and next September a new Bimec cutting machine will be installed. Furthermore, a few months ago a Rossini cylinder grinding machine was installed, a need that was essential to satisfy the company's cylinder park (around 600), but which also gave rise to a new service that it is also offered to customers, with great satisfaction.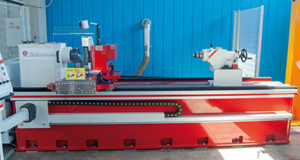 Reference markets are those of plastic film laminating for food, pharmaceutical, technical and industrial packaging (photovoltaic films, for credit cards). "Our big production capacity allows us to carry out up to 4/5 work changes per machine per day, from 6 thickness microns of aluminum to 10 micron thickness of polyester, up to 800/900 micron materials that require great mastery of the technologies and a great experience from our operators, which we directly involve in continuous training courses", concludes Giancarlo Cavanna.
The commitment to achieve an increasingly sustainable production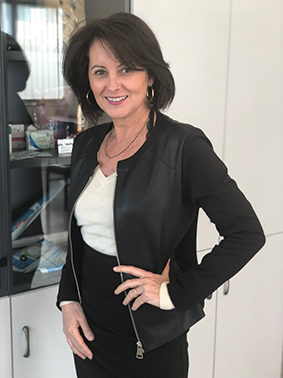 For a few years now, Giancarlo Cavanna has been running the company together with Anna Paola, acting as vice president and sales manager, and president of Italian Packaging Institute, with a program that has as central commitment the creation of an increasingly sustainable production.
"As contractors as we are, we reflect the evolution of the materials market and therefore we are obliged to be specialized in any type of flexible film on the market today. On the one hand this is a positive aspect, but on the other it involves a big job that we do internally, thanks to our highly qualified technicians, who daily study and carry out tests on new materials for lamination and new adhesives so as to find the best solutions and propose it to customers", intervenes Anna Paola Cavanna, telling us about the many challenges that a contractor has to face today in order to remain competitive on the market. "Flexibility, quality of products offered, speed of service thanks to a large production capacity are our strengths together with machine operators and their know-how. We serve both companies that are not equipped with laminators, but also companies that, although equipped, for their production peaks or for particularly difficult processes, come to us, recognizing us the ability and competence in the execution of more complex processes, for which it is possible to obtain excellent results only if you are focused on a process like we are. Sometimes our customers inform us about the materials, but most of the time we don't know anything, either due to confidentiality, or because they totally rely on us, and this is the aspect that flatters us the most, because in this way we become really a very valuable technological partner, and for a contractor the aspect of the service is absolutely essential", adds Anna Paola, who reveals her future project that will involve the solventless department that will be restructured, equipping it with a new flooring and that will most probably be equipped with a new laminator. Furthermore, the finished product warehouse will be air-conditioned in order to guarantee a constant temperature during the winter, an essential feature especially for film webs for the food industry.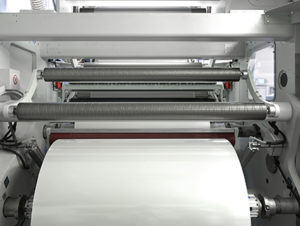 "We have embarked on the BRC certification path which has had a significant impact on our organization, starting from the production process to reach the logistics, but having involved our collaborators from the beginning, the company rowed together and compacted towards the aim. We have created an area outside the production to pick up the webs from pallets, so as not to let the wood enter the production environment anymore. Furthermore, we have removed the asbestos from the roofs of the sheds, and in the future another good project that I would like to face is the acetate recover, which today we burn with a special equipment. Generally speaking I would like to cover more and more projects that allow us to implement with concrete actions the dictates of sustainability", concludes Anna Paola Cavanna, whose association commitment is very strong and deep, like the one lavished in the historic family company.