On the occasion of Xeikon Cafè we saw the results of this collaboration which involves the use of Xeikon CX 500 and subsequent lamination and converting: samples of pouches that are beautiful to see, very lightweight and customized with variable data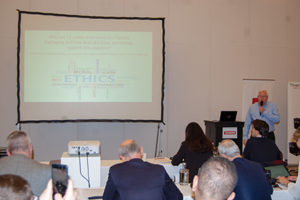 Born in 1976, CS Labels, located in Wolverhampton (UK) have grown from a small flexographic and screen printer into one of Europe's largest digital printers, which manufacturers self-adhesive labels and flexible packaging in the form of stand-up pouches and continuous film. CS Labels is using Xeikon technology, with 5 installed machines, 4 Xeikon CX3 with 5 colors and one CX500 with 5 colors. The company has a staff of 50 people, very skilled and true experts in digital printing: the first Xeikon was installed in 2017 at the beginning of this technology. A relationship that has developed over time to become a real partnership so that digital printing became a real added value and this new solution is the result of a long research work, not only related to machines but also to materials.
To get to this line, lots of tests were carried out relating to the materials that could be laminated and also to toners, in order to avoid the risk of de-lamination, migration tests were also performed.
Pouches with digital printing: now it's possible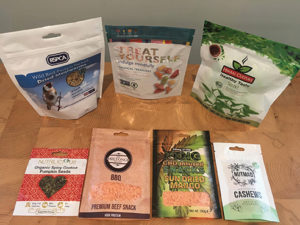 Pouches from CS Labels can be re-sealable. This means that the goods and products contained inside the pouch remain fresher for longer, above all food products. But not only this, they are more lightweight, and the transport is easier and more economic. Short runs of special or creative campaigns, printing of seasonal or themed batches, or printing a package/label with different images and messages on the same print run: possible applications are really a lot.
How all this was possible? Integrating the various processes to create a complete production line, which Sinon Smith, managing director of CS Labels, has described in detail in his speech during Xeikon Cafè. The first step is obviously indirect printing with Xeikon CX500, that prints onto 23 micron PET at 30 metres per minute, resolution is 1200 dpi and dry toner used is suitable or food applications. Then to the printed PET is applied a water based thermal adhesive to PET utilizing a GM UCoatpress; after this there is the heat lamination of PE, Met Pet, Aluminium to PET, then a slit roll to provide a stable web, at the end pouches are created with a converting machine specially constructed, designed specifically for short runs. Finished products are 3 sided sealed pouches, sachets of these types: Doy, K seal, Zip Closures, Tear Notches, Corner cutter or Euro-slots.

The important contribution by Xeikon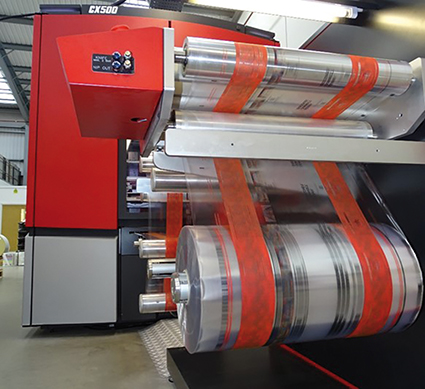 Digital printing with Xeikon's dry toner technology has many advantages. It is not only the highest print quality on flexible substrates but there are also reductions in start-up costs and no job changeover costs. The machine has the ability to print variable data information in both single and full colour. Xeikon's digital dry toner technology allows Just In Time production, versioning and last minute adaptations on the fly. For busy print operations with a high volume and complex jobs looking to assess which process and technologies will give them an advantage, the crossover point for flexo and the digital process is at least 4000 lm.
Pouches can be reasonably complex to manufacture because of the flexible nature of their multi-layers. The collaboration between CS Labels and Xeikon wanted to simplify the manufacturing process.
Filip Weymans, Xeikon's Vice President Marketing, states: "the line we created is a prime example of what we call customer driven innovation. Our digital printing solution utilizes our dry toner technology, which comes with a guarantee for food safety.
This technology also ensures consistency and an equal finish to offset (Am screen) and to flexo when colour matching is required. With our aXelerate programme, our dedicated teams provide direct and personal training and support for our customers every step of the way".
Marketers and brand owners see a lot of value in this kind of packaging for a variety of reasons, such as product presentation and functionality for the consumer. Pouches can also be sustainable: a pouch has a so-called "product-to-package" ratio of 35:1, which essentially means that it can carry up to 35 times its own weight, resulting in less energy consumption to produce and to transport. Pouches can have a variety of different shapes depending on size, end-use application and functionality. Many brands are transitioning from rigid types of packaging to more flexible versions such as pouches.