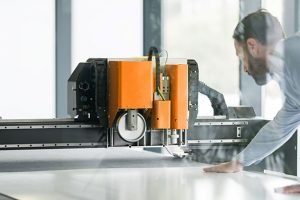 "We are delighted that several of our distribution partners have now installed Kongsberg cutting tables and tooling combinations in their demo centers across the EMEA region," said Stuart Fox, President of Kongsberg PCS. "Kongsberg cutting solutions are renowned for delivering the most robust and reliable digital cutting solutions to packaging, signage and display markets worldwide. We want to ensure that customers are able to witness the power and performance of our range without having the expense, inconvenience and environmental impact of travelling half-way around the world to do so."
The range of Kongsberg cutting systems, tools, software and automation solutions will now be displayed and demonstrated to customers at Dynagraph in Dubai, United Arab Emirates; at KTA in Helsinki, Finland; Lexplast in Tallinn, Estonia; Lidya Group in Istanbul, Turkey, at Getter Group in Tel Aviv, Israel and at two Graphic Supply World demo centers in Cape Town and Johannesburg, South Africa.
The move is part of the Kongsberg PCS commitment to better service its clients and provide a more localized service where possible, and given the recent global pandemic and worldwide shift towards reducing work-related travel, is an important investment.
Judd Perring, Kongsberg PCS Territory Sales Manager for the EMEA region, said the ability to experience the power and performance of the digital cutting solutions was a key factor for many businesses in light of recent economic and environmental concerns. "We've all experienced first-hand how the Covid outbreak affected the way that many businesses are operating, not least the significant impact the situation has had on business travel," he said. "There's every chance that the way the industry has adapted to these conditions will influence and transform the way people work for many years to come.
"With that in mind, Kongsberg PCS and our partners recognized the need for local demonstration facilities across EMEA, and we have worked with our distribution partners to open several new locations, in addition to our existing locations in the United Kingdom, Eire, Poland, Spain, Denmark, Italy and, of course, at Kongsberg headquarters in Gent, Belgium.
"By fusing technology and creativity, Kongsberg PCS drives innovation, enabling customers to produce faster, safer, and more efficiently, without limiting imagination," said Judd. "We are delighted to announce the opening of these new facilities, which will enable more businesses to experience the power and precision of Kongsberg solutions."