Last May at the Dubai World Trade Center Kodak exhibited innovative products and systems for efficient, high-quality print production at the Gulf Print & Pack trade show.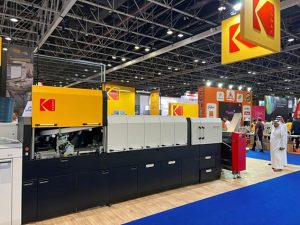 A highlight at Kodak booth was Kodak Nexfinity Digital Press, which was showcased for the first time in the Gulf region. The Nexfinity Press is the most versatile digital press on the market and can help commercial printers expand their business into high-revenue, high-margin applications. The press offers the greatest possible variety in terms of substrate types as well as sheet sizes and thicknesses. It also provides a unique range of print embellishment options in its fifth imaging unit. All these features enable the Nexfinity Press to produce an extensive range of high-quality, highly customized jobs.
As the manufacturer of the most comprehensive range of CTP solutions, Kodak presented the Kodak Trendsetter Q800 Platesetter showing live imaging of Kodak Sonora XTRA Process Free Plates. Sonora XTRA is Kodak's next-generation process free offset plate. It delivers a stronger image contrast, faster imaging speeds and improved handling robustness, plus sustainability and waste savings in prepress and on press. In addition, Kodak demonstrated the Kodak Mobile CTP Control App that enables unattended Kodak CTP solutions to be monitored remotely, flexibly, and proactively.
The Kodak team also run live demos of Kodak Prinergy on Demand Workflow Solutions, the industry's prepress automation software which enables printers to increase productivity, reduce turnaround times and costs. Prinergy Workflow is a perfect solution for printing companies of any size. It offers powerful automation, support for offset, flexo, digital and gravure printing, compatibility with virtually all third-party software and equipment, and connectivity with a broad range of digital presses.
"For us it was inalienable to be a part of this important trade show to engage in person with customers from the Middle East and North Africa regions; Gulf Print & Pack provided a perfect showcase for our latest innovations", said Giuliano Bianchet, VP, Regional Sales, EAMER, Kodak.