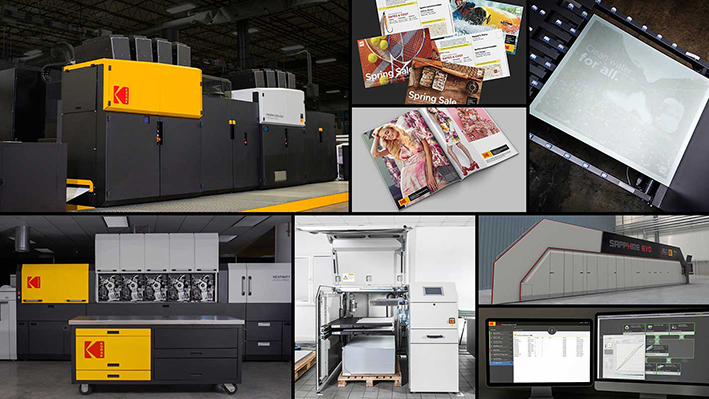 The Kodak Prosper Ultra 520 Press builds on Kodak Prosper 6000 heritage and takes inkjet to the next level, delivering offset-like quality at a consistent production speed of 150 mpm on glossy papers with high ink coverage and variable print — all at the industry's lowest cost of operation.
The new press is the first Kodak-manufactured press using Kodak's revolutionary Ultrastream writing system, which employs high-precision placement of smaller, perfectly round, satellite-free drops to produce the highest inkjet image quality available in the marketplace today. The Prosper Ultra 520 is engineered to maximize productivity by printing across a broad range of substrates using the industry's most versatile, highest quality and cost-effective water-based inks. As a complete system, the Prosper Ultra 520 is a game-changer that will help printers profitably grow their businesses across a range of applications, including direct mail, marketing collateral, catalogs, books and more.
Improvements for offset field
Kodak also presented the Kodak Sonora XTRA Process Free Plate and the new Kodak Prinergy On Demand Workflow Platform, that hosts a suite of offerings that modernize and maximize a customer's Prinergy Workflow investment. Introduced also the world's fastest 8-Page CTP for process free plates with the new Kodak Magnus Q800 Platesetter with T-Speed. The Magnus Q800 Platesetter will now be able to image up to 80 plates per hour to help maximize the productivity of offset workflows.
Last but not least Kodak offers the new Magnus Q4800 Platesetter will deliver industry-leading speed and productivity for extra-large format (XLF) plate making. It will deliver the fastest throughput for XLF size plates for 96-page presses and provides market-leading throughput for 1,650 mm size plates, with dual plate loading. It will also have the most flexible pallet automation available with up to 8 plate sizes online and up to 4,800 plates online.
Digital for flexible packaging
The Sapphire EVO W is the first digital packaging press to match the productivity of flexo and the quality of gravure. It uses Kodak's high-resolution Ultrastream Inkjet Technology and QD Packaging Inks to bring the endless opportunities of digital printing into mainstream production of flexible packaging. With run lengths of up to 20,000 m2, or more with variable content, the Sapphire EVO W is a disruptive solution that allows brands to adopt innovative packaging that leverages the advantages of digital printing.