Zumbiel Digital is a full-service paperboard packaging firm, located in the USA, focused on industrial scale mass-customization that decided to integrate a wide-web flexo press with a production inkjet Kodak Prosper 6000S to create an hybrid machine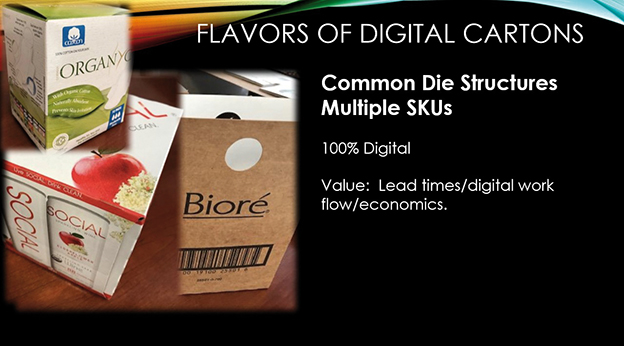 On the occasion of Kodak Packaging Summit held in Verona last February we had the opportunity to listen to Ed Zumbiel, president of Zumbiel Packaging, an industry leader in innovative paperboard packaging: a North American paperboard packaging producer that has been diligently serving customers for over 150 years. One of the cornerstones of its business is running large rolls of paperboard on flexo presses to produce beverage cartons. Typical order quantities are in the "hundreds of thousands to the millions" of impressions. Faced with increasing demand for faster turnaround times, shorter run lengths, more promotions and late-stage content changes, Zumbiel developed a plan: integrating a wide-web flexo press with a production inkjet Kodak Prosper 6000S Hybrid Press in a single web path. The initiative required the expertise of market leaders in micro-electro mechanical systems, inkjet printing, workflows, coating chemistry, press manufacturing, die-cutting and control systems.
Hybrid flexo-digital printing enabled the company to form Zumbiel Digital, natural evolution of Zumbiel Packaging, and offer new services, such as "Web to Box" for on demand production of branded craft beer boxes/carriers and food/beverage cartons, with a 70% improvement in time to market.
Color Inkjet by Kodak was the only one technology that could satisfy the speed/throughput equation. Growth Strategy Zumbiel views large volume digital print as a mission critical element for future success in packaging. "We therefore selected the technology that we felt was the very best in terms of speed, quality and cost for our customers, we want absolute print quality with excellent color gamut for 100% digital jobs, incredible registration, and the ability to handle quickly a wide range of substrates; from the economic point of view we are sure that this hybrid solution will result into a very attractive ROI.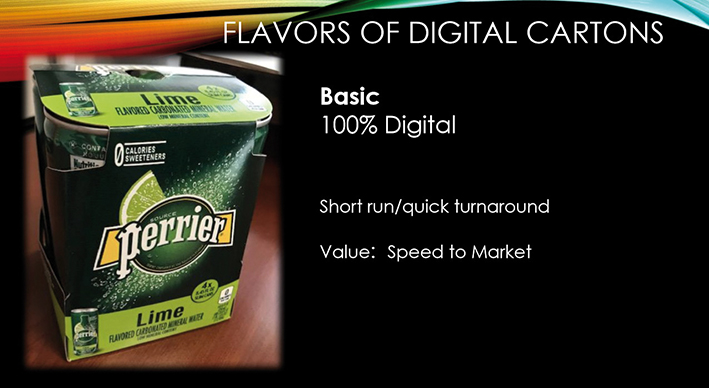 Kodak Prosper 6000S – hybrid configuration
Zumbiel's hybrid 11-unit web press with platen die cutter runs high volumes at high speeds, combining flexo printing for static design elements with digital printing for variable elements.
The Kodak Prosper 6000S digital web press is specifically designed for this type of hybrid configuration. It uses Kodak Stream Inkjet Technology for digital print widths from 204mm to 647mm, and can handle paper-based substrates, including labels, carton and PE coated paper, from 150 gsm to 380 gsm. The Prosper 6000S simplex color inkjet web press delivers up to 12,000 B1 sheets per hour. When printing the standard resolution of 600×600 dpi, it can run 300 mpm, or at 200 mpm when printing 600 x 900 dpi.
Kodak's nano-particulate pigment ink and intelligent inter-station drying enable high ink coverage with high quality at high speed. The 6000S Press prints on uncoated and coated folding carton substrates with optimal performance. Water-based KODAK Inks and pre-treatment fluids are FDA-approved for indirect food contact; the press can hit over 85% of Pantone colors digitally, and 100% – including metallics – with flexo.
"The unmatched economy and throughput of the Prosper 6000S-based hybrid press will allow Zumbiel Digital to take mass-customization of paperboard packaging from niche to mainstream," comments Donald Allred, Worldwide Director of Packaging Sales & Marketing, Enterprise Inkjet Systems Division, Kodak.
For achieving success as a partner, a customer and an innovator in the printing industry, Zumbiel Digital received the first annual Lighthouse Account Award from Kodak.