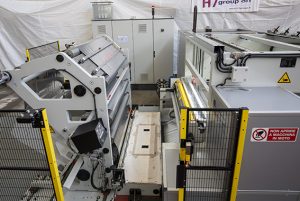 The online Open House organized by I&C, in partnership with H7Group, aroused great interest in the last days 1st-3rd-4th-7th of June to present the TR-B1 slitter-rewinder to Italian and foreign customers who  participated numerous.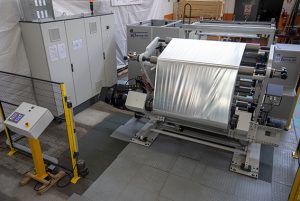 The sessions were held with presentations broadcast from the Milan office of I&C, in connection with the production workshop of the H7Group in Mandello del Lario (LC), where a real live demonstration was held, preceded by a technical description of the machine .
The TR-B1 is an automatic slitter-rewinder, with 1350 mm utility, specific for cutting materials from 10 to 300 microns in total thickness on a single shaft and with a speed of up to 600 m / min. It is suitable for processing plastic films, aluminum and paper. «The TR-B1 is an extremely flexible machine, capable of cutting different materials with cutting widths starting from 7/8 mm up to the full band. Furthermore, it is very compact and it is possible to apply various customizations to the basic configuration, to the point that each machine is unique », says Sergio Puoti, Sales Director of I&C.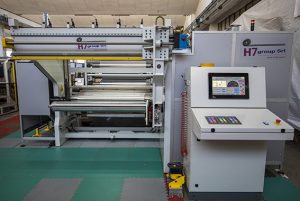 The numerous customers who participated were able to have direct access to the factory and ask questions to find out about its characteristics and possible implementations: the machine can be manual or automatic, always following the customers' needs. The TR-B1 model is very versatile, it can handle different materials and it's very efficient even with small coils.
Retrofit applications were also presented. «The cutters already in use, with a good mechanical structure, can have a second life by adding safety systems and new electronic components», adds Matteo Cogliati, Product Manager of I&C.
"Despite the particular moment, we have found availability on the market thanks to H7Group's ability to customize machines at the highest level and to intercept new customer needs", concludes Elisa Conselvan, Marketing Director of I&C.