Reproflex3, flexo prepress service based in UK, has done its share of spreading the flexo word, both geographically and technologically. Expanding overseas to reduce dependence on the intensely competitive UK market, the company has established successful presences in the UAE and India and partnerships with likeminded prepress specialists in the US and — most recently — Italy.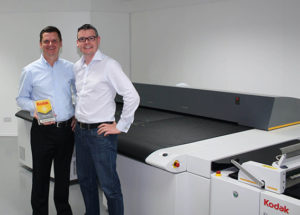 Reproflex3 is best known for its FTA award-winning ProjectBlue® solution, launched in 2016. Based on the groundbreaking Kodak Flexcel NX System, ProjectBlue® optimizes ink delivery and image consistency by linking superior color separations, differentiated screening, patented plate patterning and specially designed aniloxes. The combination delivers outstandingly vibrant and consistent ultra-high definition output, produced at maximum press speeds and within a standard four-color ink palette.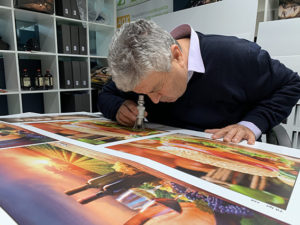 ProjectBlue® also provides the technology platform for BlueEdge, the first product to result from Reproflex3's collaboration with Z Due. Available exclusively from Z Due, BlueEdge does everything ProjectBlue® does, but has been adapted by the two partners to meet the requirements of the Italian corrugated post-print market, in which Z Due has a strong presence.
Reproflex3 and Z Due owe their partnership directly to their participation in the Global Flexo Innovation Awards, introduced in 2018 to mark the 10th anniversary of the launch of the Kodak Flexcel NX System. At the Istanbul awards ceremony both companies won Gold Awards for outstanding examples flexo-printed packaging but, just as importantly, laid the foundations of their present collaboration.
Vortex®: to print on coated paper with high volume anilox
Vortex®, currently in beta-testing, is a technology made on Kodak NX plate that allows flexo machines to raise screen ruling without changing anilox configuration, thus facilitating the opening to new markets, for example packaging destined for large-scale distribution.
In practice, it customizes the surface of the point in contact with the ink with the aim of allowing high volume anilox (8-10 cm3/mq) to print on coated papers. This system is able to transfer 100% of the ink in the line or solid areas of the plate and 30-40% less ink in the screened areas.
Another important advantage is the elimination of the need to separate the screens from the lines or solids, with consequent savings in the purchase of plates, and set-up times.
Vortex® has enormous potential because it addresses a wider market than ProjectBlue®, that is not for everybody. To get the best results from ProjectBlue®, the printer not only has to print at the very highest quality, with the highest consistency, but also maintain the process to the highest standard. There is a market sector for this application but not all printers are ready, but there are many more that want to start on the path towards ProjectBlue®. Vortex® is for those businesses: it is about using and adapting screening technology and a 360° advanced color certification solution to help them increase their quality, step by step.