Last May in the charming location of Istanbul  the proud 12 winners were honored, and for Italy it was a shocking success with three Gold Awards and one Silver Award; on the day after the ceremony the flexo forum informed all participants about innovation and opportunities to achieve a cost-efficient production and sustainable flexo printing with Miraclon solutions
Almost 100 companies from 26 countries submitted over 200 entries to the Awards. The precondition was high quality, because all entries had to be printed with plates realized with Kodak Flexcel NX, so the real parameter was the excellence in four categories of innovation excellence: creativity in graphic design, conversion from other print processes to flexo, workflow efficiency and commitment to sustainability.
Winners with highest honors are in (in alphabetical order) Lorytex, Uruguay; Pentaflex Films LLP, India; Reproflex 3 & Roberts Mart, UK; Z Due, Italy. The other winners are Bolsapel, Argentina; CR Serigrafia, Italy; Fotolito Veneta & Imball Center, Italy; Imageworx, USA; IsmaColor, Italy; Pulse Media, UK; Steurs Graphic Solutions & Helios Packaging, Belgium.
Beautiful results on many different substrates
The winning entries submitted by Italian companies were very heterogeneous, from cardboard to flexible films and even on plastic containers: let's have a look into details of the single projects.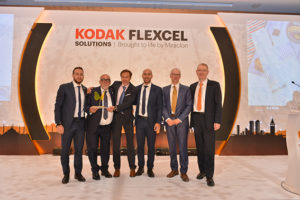 IsmaColor, Italy (Process Conversion, Graphic Design and Workflow Efficiency) – Gold Prize. This prepress and printing company works actively with brands to help them to create eye-catching packaging printed on more sustainable substrates while reducing overall cost and time to market at higher or comparable quality. Three items were presented: a folding box produced for Mascalzone Latino (shaving products), the box was printed with offset but now with the quality of plates made with Kodak Flexcel NX, flexo assures a more defined resolution and a quality equal to offset; a folding box for Emmediciotto (hair care products), in this case was applied an idridiscent cold foil film which changes color according to the viewing angle; the third was realized for Frau (food supplements) with Chromocard 300 gm FSC Paper.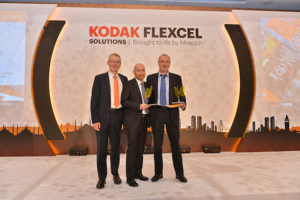 Fotolito Veneta & Imball Center, Italy (Process Conversion and Graphic Design) – Silver Prize. A number of technical difficulties were overcome in converting coffee (Rafaele brand) packaging from gravure to flexo. The flexo product had to have the same color coverage on the bottom, with negative text open and legible. Fotolito Veneta and Imball Center matched the quality, reduced costs by 40% and cut time-to-market from 59 days to 37.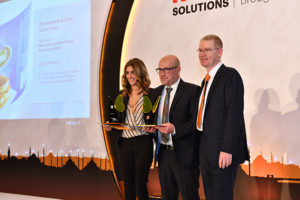 CR Serigrafia, Italy (Process Conversion, Workflow Efficiency and Sustainability) – Gold Prize. Working with its client Esbe (member of the Piber Group), CR Serigrafia replaced dry offset printing with direct-to-container printing on rigid conical plastic containers (for Mascarpone Brimi) using flexo. Esbe was looking for new technologies, led to integrate direct-to-container flexo printing into its production lines, using the only such machine active in Europe.The benefits include higher print resolution, excellent image quality, faster make-ready times, more speed and consistency, 40% reduced ink laydown and elimination of solvents for cleaning and less waste materials.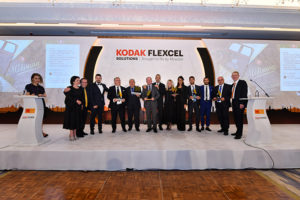 Z Due, Italy (Process Conversion, Workflow Efficiency and Sustainability) – Gold with highest honors. No less than eight of Z Due's submissions, all onto corrugated cardboard (for Vecchia Romagna, Heineken, Molisana, Spinerb and Kirkland Vinegar) were selected by the judges, a number that demonstrates the company's enormous success in converting corrugated offset work to flexo. With Kodak Flexcel NX, the company has managed to convert many jobs from offset or gravure to flexo printing thanks to an accurate process of creating dedicated color profiles, through a meticulous process of studying data and problems present in print tests. We add then the fact that NX plate provides excellent stability and cleanliness in printing, which simplifies the life of all printers, even on machines that are not extremely efficient, with results that until now they could not even imagine achieving.
Transforming flexo together
After the Global Flexo Innovation Awards Gala, the next day, the forum was opened by a very warm welcome by Nilgun Turan, Miraclon marketing manager for Europe, stating the importance of such an event that gathers companies, experiences and ideas. Then spoke Chris Payne, Miraclon CEO: he underlined that Miraclon is a new company with the same R&D and service team, 2 manufacturing sites with 300 employees globally. "Customers, print buyers and partners can continue to trust and rely on the industry-leading brand that is Kodak Flexcel Solutions, besides we're committed to transform the industry in a sustainable way. Flexo plates produced with our systems increase efficiency and reduce waste on press, printing with any ink on any substrate, with this aim we are partnering with industry leaders who have the same aspirations; to get all this we pursue ongoing R&D investments into environmentally conscious solutions".
The program foresaw also a OEM speech, Markus Bauschulte, Technical Sales Director Printing and Finishing, W&H. The topic was Packaging 4.0, the vision of Industry 4.0 by W&H focusing on production of flexible packaging with integrated modules and processes along the value chain, intuitive operation of all machines and intelligent technologies with integrated data workflow along the value chain to enhance performance and quality.
John Anderson, Advanced Print Applications director, VP Miraclon, declared that "the core technologies by Miraclon will be the same, that is Kodak Flexcel System, because controlling ink transfer is our core capability, with our technology we can adjust the plate surface and control ink transfer; substrates and inks are becoming more challenging and we want best in class printability in the widest range of applications". Everybody is asking Miraclon whats'next, but the answer is so simple, continued development of NX Advantage technology and applications knowledge. The medium to long term opportunities are sustainability (substrate challenges and future differentiation), Expanded Color Gamut (ECG) printing in strong growth, conversion from gravure to flexo. "We are engaging and working very hard to let become flexo the print process of choice for the brand owners", concluded Anderson.