During the important event taking place in Fiera Milano, Ferrarini & Benelli will exhibit the universal corona treatment system Polimetal, perfect for every converting application: laminating, coating, flexo and gravure printing and extrusion coating. The range of surfaces which can be treated, such as plastic and metallised films, paper, aluminium foil and laminates is also very wide.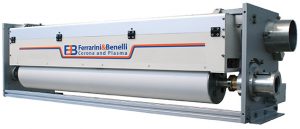 Polimetal is equipped with ceramic electrodes and a ceramic-coated roller and is available in four different models, both in a single and double-sided version. Each model may be accessorised with options to meet specific production needs and adapt to any working condition.
The system's open design, ceramic electrodes and ceramic-coated roller ensure that the air-gap adjustment and routine cleaning and maintenance operations are extremely straightforward.
The Kappa Uno model is characterised by a compact layout, particularly easy to install on the customer's line owing to the reduced size of the structure.
Kappa Plus Uno is the most versatile model in the Polimetal line, designed to adapt to the customer's line speed, thickness and chemical-physical properties of the material to be treated and can be easily installed on any converting line and in any position. Available with integrated motorisation and extended shaft for drive, it can also be equipped with a pressure roller to avoid any back-side treatment effects. The design of the system also allows quick and easy film threading, ensuring consistency of treatment.
Marked by slightly enhanced features compared to Kappa Plus Uno, Kappa Plus Due is designed for high speeds and high-performance processing.
Finally, Kappa Plus XL can house a roller with a larger diameter compared to the other models and it is the ideal solution to treat even the most difficult materials, characterised by high levels of viscosity, requiring high surface tensions at the highest line speeds (600 m/minute).
PLASMA TREATMENT AND CUSTOMISED SOLUTIONS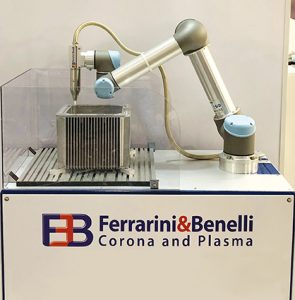 More than just one surface treatment at Print4All 2022. Ferrarini & Benelli will also exhibit In Air Plasma. This surface treatment system does not release ozone into the atmosphere and can be easily installed on the customer's lines owing to its compact layout. Suitable for improving the value of adhesion of small-sized surfaces of metals, three-dimensional plastic objects and cardboard and for optimising adhesion on folder-gluer lines, In Air Plasma by Ferrarini & Benelli consists of one or more discharge nozzles with a digital generator and integrated transformer.
A torch, with a treatment width of about 10 mm, is connected to the generator by means of a 2.5 mm shielded cable. To operate, the system only requires power supply and compressed air.
In order to ensure excellent results and design the best possible solution for the need of each customer and to suit each production line, Ferrarini & Benelli has set up a laboratory in its headquarters, where a specialised team tests plastic and metallic surfaces to improve their adhesion value.
To customise results, Ferrarini & Benelli has equipped the laboratory with a robot connected to a touch-screen tablet that allows the automation of processes.
Simply by means of the tablet, the operator can direct the flow of plasma discharge towards the surface to be treated and can adjust the power and speed settings according to each specific case.
Following testing, the operators can further check the obtained results using Dyne Test Ink surface measurement liquids, which correctly assess the value of surface tension of a substrate, to determine whether treatment has been effective.
A flexible, green and user-friendly solution, In Air Plasma cleans and treats a surface at the same time and is the ideal system to improve the characteristics of adhesion of a substrate.