The prepress service located in San Martino Buon Albergo (VR) celebrates 50 years of activity in the photolithographic sector and 20 in the flexographic sector, where it has been able to carve out its own space becoming a reference point for flexible packaging printers and brand owners who do not accept quality compromises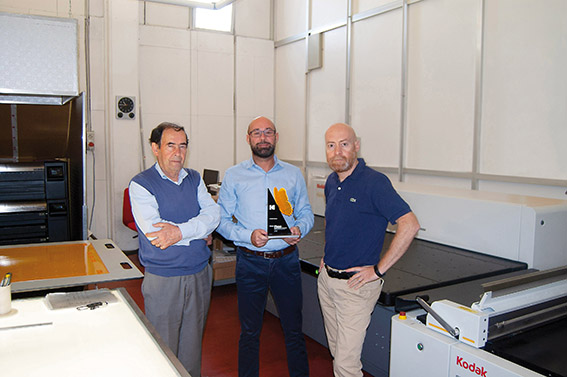 To understand the meticulousness of the work and the passion that distinguishes the Storace family that owns Fotolito Veneta and its collaborators, it is essential to be carried away by the memories and stories told by its founder, Giulio Storace.
His adventure began in 1954 in the family prepress service in Genoa, continued for a few years in Milan and finally arrived in Verona where the activity of Fotolito Veneta began in 1969.
Starts here the collaboration first with Arnoldo Mondadori and then with publisher Giorgio Mondadori for the publications of magazines such as AD, Airone, Bell'italia and others. At the same time he expanded his business in Italy, France and Germany, collaborating with various editors of fashion, design magazines and art book. Just to name a few: Enciclopedia Treccani, Marsilio Editore, Condé Nast, Cairo Editore.
From offset to digital flexo
At the end of the 80's, Fotolito Veneta was entrusted with the task of developing a project for color printing in flexography of some provincial newspapers including the Mattino di Padova. At the beginning of 2000s, since the activities of commercial/art catalogs, and traditional publishing sectors were decreasing, Fotolito Veneta decided to enter the flexographic prepress sector also thanks to the experience with the newspapers.
The first few years were not simple, the offer on the market was not lacking and trying to find space in a fairly closed and already well-covered market, although growing, was not easy. 20 years later, Fotolito Veneta has 20 collaborators working in flexographic prepress and is a nationally and internationally recognized reality.
The culture of the offset image, a distinctive element in the production of flexo plates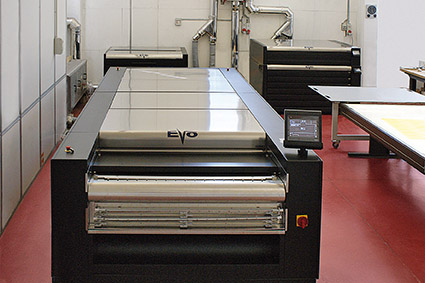 Having worked for over 40 years with high quality publishing publications, allowed Fotolito Veneta to approach a new market, such as the flexo one, but with a very important background, with an almost maniacal culture of image and beauty, with extremely accurate selections that place the chromatic aspect at the base of the whole production process. Each incoming work is evaluated in advance by Alfredo Storace, Production Manager, to understand if the file is workable or not and to identify critical aspects. After this first step, color separations are performed in the various workstations. This is a fundamental step for a quality print. "We provide the executive pdf to the customer within 48 hours, because we know very well that now the market is extremely fast and the requests are pressing for everyone, but only after strict controls. There are procedures to follow and we are intransigent about these. Analyzing the work in detail with great care is part of our background. We particularly appreciate the Kodak production flow, which allows us to analyze every single pixel, since the small details can make the difference", adds Alfredo Storace. Automated production flows are a beautiful thing. However, since we don't like to follow trends, we always perform human control because the software is not able to perfectly recognize all the specificities of our work.
Kodak technology, guarantee of quality and repeatability
At Fotolito Veneta is present a sort of double workflow: one organizational-procedural, in which computer-based processes are followed by strict cross-checks by operators and an automated one including control and online approval on our portal.
We can call the set of these flows the Fotolito Veneta system that allows the converters to make the most of their printing machines with a personalized chromatic processing of the jobs and, subsequently, to have rapid makeready and faithful to the approved Cromalin and Pdf.
Fotolito Veneta has adopted the production philosophy proposed by Kodak starting from the first Prinergy workflow, and from a first Kodak Flexcel NX installed in 2010, followed in autumn 2014 by the installation of a Kodak Flexcel Wide NX-C with the new Digicap Advanced NX screening. "We wanted to equip ourselves with production technologies that would allow us to stand out on the market, and after careful analysis we were the third Italian company to choose the Kodak Flexcel Nx system. With this system plates guarantee an excellent and constant ink transfer on the printing substrate, characteristics very appreciated by printers.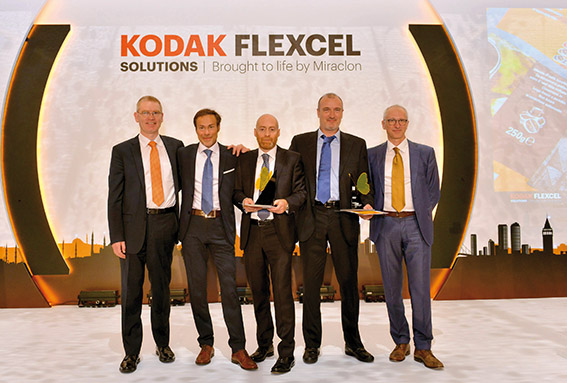 Currently Fotolito Veneta has 11 workstations for graphic layout (Art Pro and Packz) and color retouching, 2 Kodak polymer imaging systems, double processing lines, washing systems and ovens to complete polymer processing.
From the point of view of our performance – says partner Wilfredo Abriotti who with Andrea Storace follows the commercial part – we are registering important results in terms of increased orders for new jobs. These have tripled in the last 5 years and we foresee a further increase by the end of the year.
Future projects based on sustainability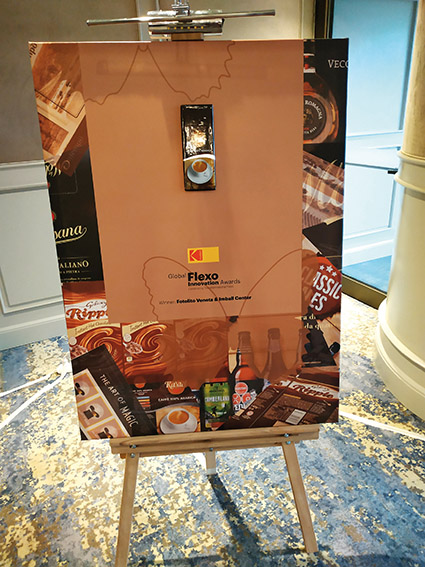 Reference sectors are represented by food, fresh and frozen products and by hygiene products. In this sector, for an important paper mill, Fotolito Veneta has also put into practice all its graphic design skills, helping the customer for the launch of its own line of tissue products that are having good success on the market.
The market trend pushes heavily on compostable materials and is also involving Fotolito Veneta in some innovative projects, in partnership with the entire supply chain.
A field in which Fotolito Veneta, thanks also to some printers that use this technology, has achieved a unique experience in Italy, the one related to the preparation of plates for flexographic printing with water-based inks on film.
Because of the constant increase in orders, in the future of Fotolito Veneta are planned further investments which will increase production capacity. "We are now looking forward to seeing the innovations that technology suppliers will offer us, and we will evaluate them all without prejudice".
Andrea Storace is back from the awarding of the "Global Flexo Innovation Award" with which Kodak wanted to celebrate and reward its customers for the valuable contribution to transformation of flexo printing process. For the occasion Fotolito Veneta and the printer Imball Center presented a pack of coffee, winning silver for innovation in graphic design but also because it was a work converted from gravure to flexo, printed with water-based inks. reducing time to market and costs by 40%.
"Already in the first Best in Flexo promoted by Atif, in 2016, also thanks to our plates, some customers, including Imball Center, won the first and third prize for printing on medium-format films and the first prize for printing on large format films. We didn't invent flexo, we made it extraordinary!", concludes Andrea Storace.