Ferrarini & Benelli, a company specializing in designing and manufacturing corona and plasma surface treatment systems (based in Romanengo, CR), is attending Plast 2023 as an exhibitor. The company's major surface treatment solutions will be presented at booth C51 in Hall 15.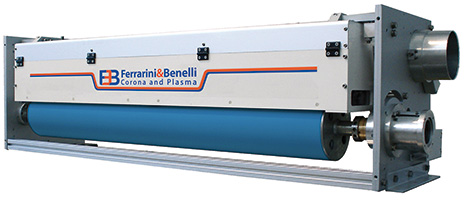 Corona treatment
Bikappa Rotary is the double-sided corona treatment system for high-performance blown film extruders and flexographic printing lines in-line with extruders. The system allows opening of the discharge rollers for rapid film threading and wide accessibility to the electrode assembly for air-gap adjustment and routine maintenance. It is also available in a single-sided version.
Poliplast is the corona treatment system for non-conductive plastic films, available in one-sided and two-sided versions. It treats the most difficult substrates, even at the highest line speeds. For converting, extrusion coating and cast film applications.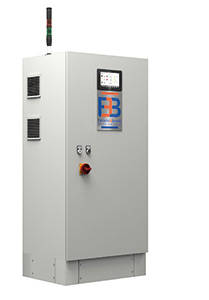 Along with corona treatment systems, the company will exhibit the brand new Evo Smart generator, consistent with 4.0 Industry parameters.
Evo Smart makes it possible to connect to the FB Cloud platform, which allows Ferrarini & Benelli customers and technicians to monitor production progress in real time and provide useful assistance and advice to operators. Evo Smart also allows to monitor data from any device and view and print the treatment quality control report.
Plasma Treatment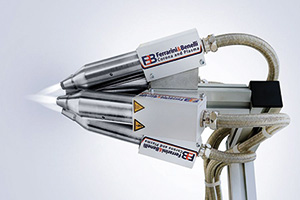 For treating small plastic objects and limited surface areas, Ferrarini & Benelli offers a plasma treatment solution, based on the effect of atmospheric plasma.
The system consists of a high-frequency generator with integrated transformer and discharge nozzles, which vary in type and quantity according to treatment needs.
In Air Plasma may be equipped with 1,2,3 or 4 nozzles for treatment between 10 and 40 mm, In Air Plasma Plus for treatment of 25 or 70 mm areas, and In Air Plasma Spark, can be equipped with one or two discharge nozzles, each for treatment up to 40 mm.
Ferrarini & Benelli uses a collaborative robot to carry out treatment tests on samples in the company's laboratory and simulates the speed and power characteristics of the production line to identify the most suitable treatment parameters for each customer and develop customized solutions.