The demand for innovative coating and finishing processes and for high quality and innovative solutions is growing. As an answer to this demand in the converting world, Ferrarini & Benelli proposes the Polimetal corona treatment – which provides excellent surface treatment on all types of materials – and the brand new AT narrow web corona treatment station for adhesive tapes or plastic films.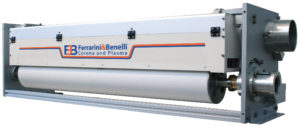 Polimetal -Universal corona treatment unit available in single-sided and double-sided versions. It is usable with all types of materials, conductive and non-conductives: plastic and metallised films, paper and aluminium foils and also laminates.  It is equipped with special ceramic electrodes and rollers. Mainly used in Flexographic and Rotogravure Printing, Laminating and Coating lines and in all Converting applications. Models differ in the number of electrodes and roller diameters and line speed (up to 600 m/min). All models are available with integrated motorization, extended shaft for drive, pressure roller to avoid back-side treatment effect, idle rollers and structures for mounting.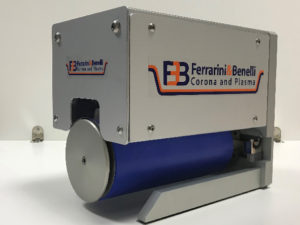 AT – Treatment station to be mounted on printing lines for adhesive tape or for narrow web plastic materials. The AT station guarantees good bonding of inks and adhesives. Treating width: from 100 mm up to 260 mm. Aluminium discharge roller covered with silicone sleeve.
The Italian company, based in Romanengo (CR), who celebrated 50 years of activity in 2015, was ranked among the best SMEs from Lombardy (best management performance) and the best small-sized enterprise of the province of Cremona ("Felix Industry Award – A competing Lombardy") in 2018.
Ferrarini & Benelli supplies Plasma surface treatment systems in addition to Corona treatment applications.