After the success achieved in 2017, this year IST will be present at the ICE Europe in Munich from March 12th to 14th, where it will exhibit the solvent washing unit of the PN series and the well-known (over 500 units already built) solvent distiller of the ROTO PLUS series in the new 2019 version.
PN – ADAPT WASHING TO YOUR OWN NEEDS
To describe the infinite possibilities of this series of machines would take too long, so we shall simply list what they have been able to clean up till now: paint and ink buckets, machine components for printing on film and paper, heart valves, moulds for plastics, screen printing frames, tongs and accessories for food processing lines, printing cylinders, mechanical components, filters, rigid and flexible pipes and much more!
With over 500 units already produced, it's one of the most popular solutions with customers, who, with 11 available models and over 30 possible configurations, find the answer to their problems in this machine. The effective washing area ranges from a minimum length of 900 mm to a maximum of 2900 mm.
ROTO PLUS – SAFETY, AUTOMATION AND MAXIMUM MODULARITY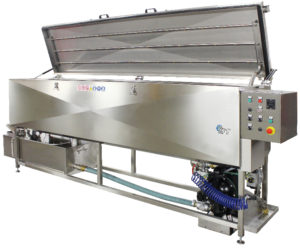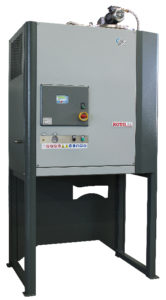 Designed for continuous operation, they can process over 2,000 litres of contaminated product per day. The ROTO PLUS model is equipped with a self-cleaning scraper system in the boiling chamber, which keeps the thermal exchange surfaces clean and free of deposits to ensure maximum transfer of energy to the product to be brought to boiling point.
They can be interfaced with storage tanks for full automation of the entie process.Thanks to the iST-REMOTE kit, distillers have become part of the Internet of Things, acquiring an active role in the digitalization of global industries through the use of connectivity.