EMSUR, through its Technology Innovation Centre INNOTECH, presents ECOEM-Sleeves, a new range of sustainable shrink sleeve solutions for bottled carbonated drinks, water, juice or drinkable yogurts.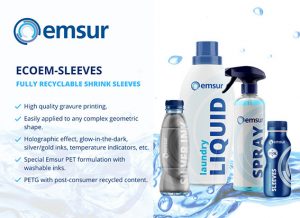 The beverage industry knows all about the advantages of bottle sleeves as they provide a key element of product differentiation on shelves, display strategic brand messages or nutrition information on the product's contents and enhance consumer added-value perception through innovative designs, materials and printing.
In the current processes the sleeves are removed from the bottles at the washing stage to avoid contamination of the PET flakes that are later used in the recycling flow Post-consumer.
Within ECOEM-Sleeves range Emsur provides different types of sustainable solutions, including ECOEM-FULL PET Sleeve, an outstanding, innovative shrink sleeve solution based on a combination of films and washable inks designed to simplify the recycling process by avoiding any type of residues or contamination.
This new product line, based on eco-design principles, features a combination of PET-based films and washable inks which can be mixed and recycled with PET bottles without any clumping of residues or interruption in the drying and decontamination process.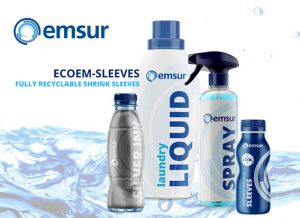 In addition, this product can be manufactured with post-consumer recycled content and has APR certification for washable inks, preventing discolouration of the flakes from the recycled PET bottles.
Another of the notable products in this new family is EMFULL, a polyolefin-based sleeve option whose floatability properties allow the sleeve to be separated directly from the bottle during the washing phase of the recycling process
This product range also features other solutions and different materials such as PETG, with available post-consumer recycled content and different types of finishes such as high gloss or matt, transparent and other differentiating elements such as holographic effects, glow-in-the-dark pigments, gold and silver inks, etc.
Any other material can be used in combination with these bottles thanks to the option of micro-perforation, which means that the bottles are also recyclable with the aid of consumer interaction.