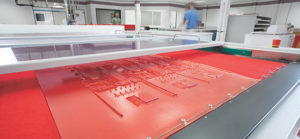 DuPont Electronics & Industrial is implementing a 4% price increase on all Cyrel® plates and other consumables, effective July 1st, 2021. "Over the past several months, DuPont has incurred significant cost increases in critical raw materials for Cyrel® solutions, as well as freight cost increases for critical modes and routes", explains Jan Scharfenberg, Business Leader DuPont™ Cyrel® Solutions East.
According to Jan Scharfenberg, DuPont teams have been working hard to mitigate cost impacts and will continue with this effort. "However, the price increase is currently necessary as the impact is being prolonged", states Jan Scharfenberg.
DuPont assures that the Cyrel® Solutions team remains committed to delivering products in a timely and efficient manner to support critical needs. The team is also working to ensure performance, quality and reliability, among the significant changes in the external environment.