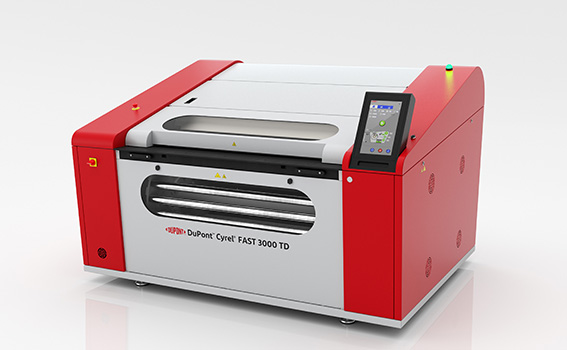 As part of its participation as a Gold Event Partner at this year's virtual drupa show, DuPont introduced its new Cyrel® EASY R plates family as well as the DuPont™ Cyrel® FAST 3000 TD thermal flexographic plate processor. These two new products were presented in DuPont's virtual show room as well as in a live web session on April 20th.
Cyrel® EASY R is the family of new formulations that maintain the benefits of Cyrel® EASY flat top dot photopolymer plates while adding on new attributes to help improve plate handling and on-press performance, especially for Flexible Packaging and Tag & Label applications. The plate family is comprised of photopolymer plates suited for thermal and solvent development and come with smooth or structured surface to provide the best match for a large variety of print conditions.
Cyrel® EASY R offers increased dot robustness for high resolution, reliable long-run print consistency as well as great ink transfer and superb print quality on a wide variety of substrates.
The Cyrel® FAST 3000 TD system is the latest addition to the range of solvent-free flexographic printform processors and offers superior productivity and performance while helping reduce processing costs, processing time, and environmental impact compared to existing solvent-based platemaking methods – now at plate sizes up to 50×80 inches.
By eliminating the use of solvents – including water – from the platemaking process, the Cyrel® FAST 3000 TD system produces maximum-sized plates that require no drying time and can be prepared in under 30 minutes. With the same efficiency as other Cyrel® FAST systems, the 3000 TD offers flexible packaging customers and other users with large-sized jobs and high productivity needs a platemaking solution that helps reduce downtime, energy consumption, and environmental footprint.