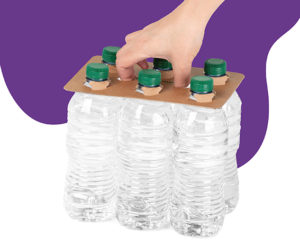 Cart-One is a joint venture formed by Antonio Sada & figli spa and Sandra spa specialized in the production of corrugated cardboard. It has plants located on national territory that allow a widespread distribution. Thanks to collaboration with Blue Box Partners, an alliance formed by European family-run companies, Cart-One, that is also a member since 2015, presents ECOGRIP, a new eco-sustainable cardboard packaging to transport packaging.
Blue Box Partners is specialized in production of corrugated cardboard packaging: for Italy is present Cart-One, Hinojosa Packaging (Spain), Klingele (Germany) and VPK Packaging (Belgium). 9800 people for more than 70 plants. Members share know-how, experiences, technologies in order to serve the European corrugated cardboard packaging market. Obviously, product innovations represent a flagship of this alliance just like the success of ECOGRIP, a valid alternative in corrugated cardboard to shrink film for packaging bottles. Within this alliance Cart-One has conducted numerous customer-focused workshops and on-site tests to ensure the performance of this type of packaging. The aim was to obtain a biodegradable solution, but at the same time able to meet the needs of the brand partners distributed throughout Europe. All of this was possible thanks to experience, continuous research and a work team capable of approaching issues relating to sustainable packaging in an innovative way. In this sense, ECOGRIP is a new form of packaging that eliminates the need for a disposable plastic "shrink film", previously necessary in the simultaneous transport of several bottles.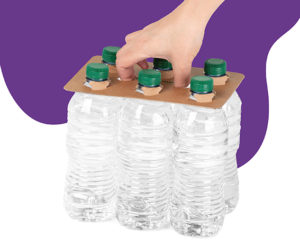 With the advent of ECOGRIP, Cart-One seeks to build long-term relationships with customers, brands and manufacturers. The company mission is to offer future supply chains a solution that is fully compatible with the need for sustainability of packaging.
ECOGRIP, in the current production context, represents a highly effective biodegradable packaging technology: a robust, simple and sustainable product, ready for rapid and large-scale application.
Cart-One, thanks to continuous research and product evolution, brings real value to the customer. As part of the pan-European Blue Box Partners alliance, the team offers collective experience and intelligence, providing local solutions to global problems.
The experience gained over time with contact with players located in different countries throughout Europe guarantees that the company is able to offer customers broader perspectives in the field of creating personalized and sustainable packaging.