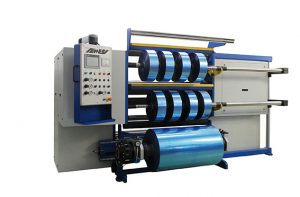 With a view to constant engineering research aimed at designing new solutions and improving its slitter rewinders, Bimec launches onto the market the brand-new STB 550 dual-spindle slitter rewinder.
This system represents the redesign of the historic STM 50 model and, thanks to its features and the latest improvements implemented, it becomes part of the STB series, where we find the STB 560 dual spindle slitter rewinder.
The two models are equipped with different configurations: the STB 550 has a single face structure and unwinds mother rolls with a diameter up to 1000 mm and rewinds finished rolls up to 500 mm whereas the STB 560 slitter has mother roll on shaftless unwind stand placed on rear of machine, unwinds mother rolls with a bigger diameter (up to 1000 mm) and rewinds finished rolls up to 610 mm diameter.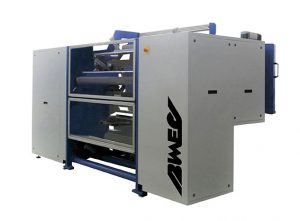 Both slitters stand out for their ease of use, the compactness and an essential and flexible equipment, which includes all the standard functions but allows them to be purchased at a competitive price.
The engineering improvements of the new STB 550 model have been studied by Bimec R&D department to meet the needs of its customers, who require ever more performing, reliable and compact systems.
The main plus points implemented concern the ergonomics of the system and its safety.
In particular the dimensions of the machine have been optimized and the electrical panel has been positioned on the side opposite the motors, this allows it to be completely isolated and to have greater ease in reaching the electrical components to carry out maintenance activities.
An upgrade of the electrical and electronic parts has been carried out, and the reel unloading system has 1200 mm arms as standard and no more 900 mm arms, therefore allows to manage reels with larger diameter.